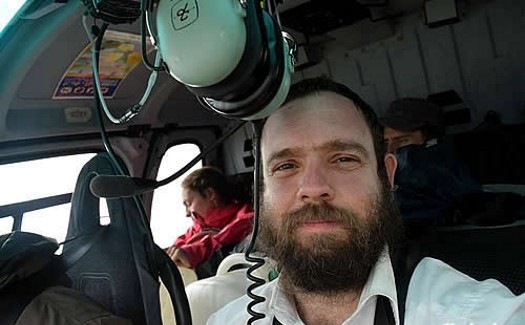 File photo: Rabbi Lifshitz pilots a rescue helicopter in the aftermath of the 2015 earthquake. Photo: Chabad.org.
Nepal Shliach Rescues Two Israeli Women
Two Israeli women in Nepal were evacuated by helicopter to a local hospital after suffering from severe hypothermia. The evacuation was arranged by the Chabad Shliach in Nepal, Rabbi Chezky Lifshitz.
From Arutz Sheva:
Two young Israeli women required medical attention after the heating unit at the guest house they were staying in while touring Nepal malfunctioned.
The Lifshitz family of the Kathmandu Chabad House called for a rescue helicopter to transport the stable and conscious women to a local hospital. Both women suffered from severe hypothermia. Their conditions have since improved and they have both been in contact with relatives in Israel.