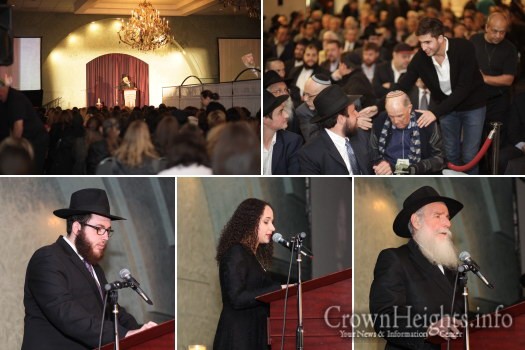 The Jewish community of the greater Los Angeles area turned out in droves Monday night to honor and pay tribute to the life and legacy of Rabbi Joshua B. Gordon, of blessed memory, to mark the Shloshim since his passing.
The crowd was welcomed by Mendel Gordon, who thanked everyone for coming out to honor his grandfather, and introduced his aunts, Faygie Herzog and Chaya Drizin, to kindle the Yahrtzeit candle and begin the evening.
Rabbi Mordechai Einbinder, associate director of Chabad of the Valley, paid tribute to his dear friend, a man "who will be spoken about for generations." Rabbi Einbinder also thanked the Gordon family for sharing their father with the community and for the extraordinary dedication to their father's care during his illness.
A line up of distinguished rabbis recited aloud words of Tehillim, led by the Rav of Chabad in Los Angeles, Rabbi Yosef Shusterman. He was followed by Rabbis Moshe Bryski of Chabad of the Conejo, Rabbi Mendel Lipsker of Chabad of Sherman Oaks, Rabbi Yossi Baitelman of Chabad of Studio City, and Rabbi Mayer Greene of Chabad of Tarzana.
Yochanan Gordon, a son of Rabbi Gordon and a beloved figure in the community, performed a Siyum on Mishnayos and joined his brothers in the recitation of Kaddish.
Rabbi Shlomo Cunin took the podium and vigorously declared, "Do not cry for me – do for me!" Enumerating many of the Rebbe's Mitzvah campaigns, he challenged the crowd to take action on behalf of Rabbi Gordon, adding new Mitzvahs to their routines in his memory.
On behalf of the 70 Shluchim and Shluchos of the Valley, Rabbi Moshe Weiss of Sherman Oaks spoke emotionally about Rabbi Gordon's unfailing love for each and every one of his Shluchim. "Like staring at our own reflection in water, we could only reciprocate to Rabbi Gordon the immense love that he displayed to each of us."
"I would never get up here to speak publicly," declared Faygie Herzog, Rabbi Gordon's eldest daughter. "But when my mother asked me to, I agreed. For her I would do anything; for she is my everything." She introduced her uncle, Rabbi Manis Friedman of S. Paul, MN, after thanking him for his dedication to her father and her family.
Rabbi Friedman pleaded with the family and the crowd to see past the ugliness of physical suffering and appreciate instead the noble persistence of a lofty soul to resist death and continue its mission on earth. "Rabbi Gordon had many heroes," he concluded, "men he called 'big people'. But in truth, he was bigger than all of them."
Rabbi Gordon's daughter, Dina Rabin of Chabad of West Hills, spoke via video from home, where she is recovering from the birth of a baby girl. "I once confided in my father that I feared life without his presence," she shared with the crowd. "So he reassured me and promised me, 'I will always be with you, I will always be present.'"
Her sister, Chaya Drizin of Los Angeles, testified to her father's complete commitment to the value of Ahavas Yisrael, care and concern for others. "We learned this lesson from him at a young age," she said. "He asked me to share the spending money he had given me for sleepaway camp with children I thought were less fortunate, and told me he would replace whatever I gave to someone in need." Love for others was his number one priority and he shared that with his children.
Rabbi Gordon's oldest grandchildren, Avi Gordon and Dina Herzog, delivered moving tributes to their "Zaidy" and shared fond and delightful memories of his love and concern for them.
Dr. Richard Finn, Rabbi Gordon's long-time congregant, and then chief oncologist, described his connection to the rabbi and the transition from devoted student to devoted physician. "I didn't have any problem finding doctors who understood his medical issue. The problem was finding doctors who understood the uniqueness of what he meant to the Jewish community, here, and around the world."
Mr. Gary Finder, a 20 year major supporter, friend and student of Rabbi Gordon's, shared his perspective as an ardent partner in Rabbi Gordon's work and a member of his own Shul in Encino. "We've lost our friend, our teacher, our mentor, our leader, our father…" He concluded with fervent pledge to Rabbi Gordon to expand the work of Chabad of the Valley and to "always give you Nachas."
Rabbi Gordon's lifetime achievements were crowned by his online classes, viewed more than 5,000,000 times since their inception and Mr. Daniel Aharonoff, who along with the team at Chabad.org was the catalyst of the project, spoke of his gratitude for the privilege.
Rabbi Yossi Gordon, the eldest of the Gordon children, recalled the weekly Torah portion's discussion of the Holy Temple and declared, "Rabbi Gordon lives on in the hearts of each and every one of you."
The beautiful and emotional evening was summed up by Eli Gordon, Rabbi Gordon's "middle child." He urged the crowd to be strong, to find meaning and inspiration, never despair and despondency. "The solutions and the miracles are all waiting for us, if we avoid feeling sorry for ourselves and rise to the challenge."
"My father lived his days with the Rebbe's message of positive thinking and big thinking," he continued. "Let us follow his lead and take action in that direction."
He then announced the founding of the Rabbi Joshua B. Gordon Living Legacy Fund, dedicated to perpetuating Rabbi Gordon's work in the Valley and beyond.
An evening dedicated to an exceptional man concluded, and was perhaps summed up best by Rabbi Weiss, when he declared, paraphrasing King Solomon: "Rabbi Gordon! Many men have served valiantly in the Rebbe's army – and you have surpassed them all."