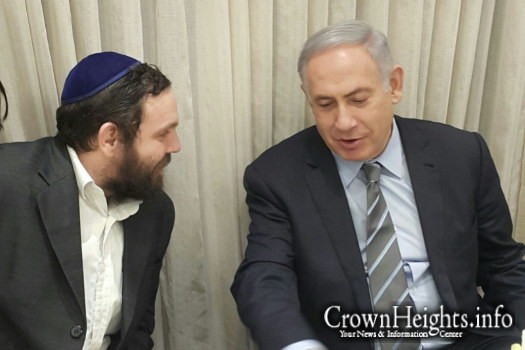 Rabbi Chezki and Chani Lifshitz, co-directors of Chabad in Nepal, just spent some time in a completely different venue—the Knesset. They were invited there as official guests of Deputy Minister of Foreign Affairs Tzipi Hotovely, who wanted to formally recognize the couple for their efforts on behalf of the thousands of young Israelis who travel each year to Nepal to hike and explore.
From Chabad.org:
Since the Lifshitzes first moved to the South Asian country in 1999, they have worked under challenging conditions to create a home away from home for Israeli backpackers, including holding what has become the world's largest Passover seder, which draws 2,500 guests annually.
When Nepal was racked by a massive earthquake last April—followed by almost equally devastating tremors—the couple was positioned at the center of the rescue and recovery efforts, using satellite positioning technology and even renting a helicopter to find stranded tourists.
In the Knesset cafeteria, the Lifshitzes were greeted by Israeli Prime Minister Benjamin Netanyahu, who expressed his thanks and admiration for the work that the Lifshitzes, as well as their thousands of fellow Chabad-Lubavitch emissaries around the globe, do for Israel's citizens, wherever they may be.
He also inquired about the recovery efforts on behalf of Nepal's citizens, many of whom lost everything in the quake. The Lifshitzes have been supplying some villagers with Israeli-made, quake-proof homes to replace their crumbled huts.
In response to their invitation for the Israeli premier to visit them in Nepal and enjoy its breathtaking scenery, Netanyahu replied that he'd love to come—if his busy schedule will allow it.
"The warm words that we heard today will certainly give is a lot of strength going forward," said Chani Lifshitz.