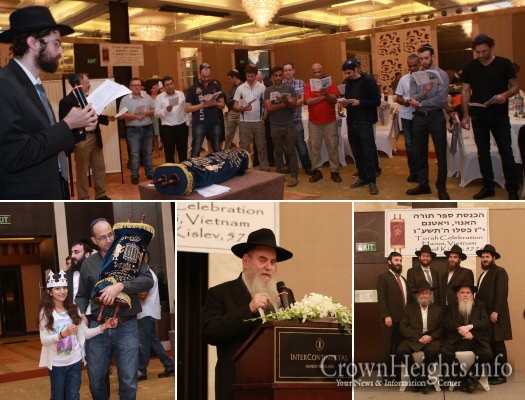 Hanoi Jewish Community Gets Its First New Torah
Chabad of Hanoi, Vietnam, made history as they welcomed their very own brand new Torah Scroll. The Torah is one of seven newly written Sifrei Torah generously donated by Chilean businessman and philanthropist Leonardo Farkas, honoring Rabbi Moshe Kotlarsky and his family.
Many adults and children from the local Jewish community gathered together at the Intercontinental Westlake Hotel to welcome the Torah scroll amidst singing, dancing and of course, lots of l'chayims!
Young and old alike, joined in the festivities which included the traditional hakafot, a lavish buffet dinner and a fabulous childrens' program and activities. None of the 25 Jewish children that participated in the momentous occasion had ever experienced a Hachnasas Sefer Torah before and the excitement was palpable!
Rabbi Moshe Kotlarsky, vice Chairman of Merkos Linyonei Chinch, who traveled from New York for this historic event, shared inspiring and uplifting words with everyone. "By coming here today and seeing the hard work of Rabbi Levi and Mushky Laine and seeing so many young Jewish kids proves that even in a place called Hanoi, Vietnam, there shouldn't be a child who doesn't have the opportunity to have a Jewish education," remarked Rabbi Kotlarsky. "Very rarely do I find myself at a loss of words, but being here tonight, I see the fulfillment of Hashem's mission and the Rebbe's desire."
The event was thoroughly enjoyed by all who attended, including the Head Shliach of Vietnam, Rabbi Menachem Hartman.