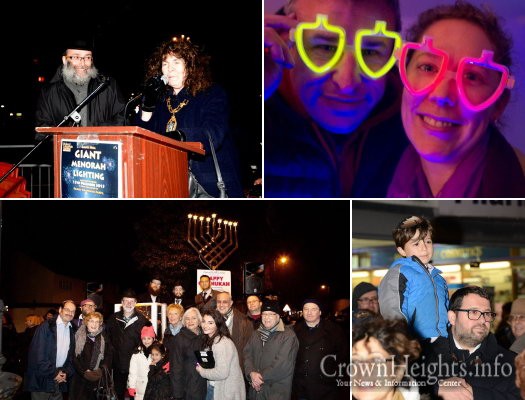 The Shluchim throughout Essex, UK, have had the most phenomenal Chanukah, with five very well attended public Menorah lightings and numerous other activities.
For the first time this year, a Chanukah Party and Menorah Lighting was held in Epping, a new area that Chabad has been developing a presence in, led by Rabbi Aryeh and Devorah Sufrin, regional directors of Chabad North East London and Essex. The Epping event was the first this Chanukah, taking place on the 2nd night, last Monday, with attendance well over 100, most of whom were attending a Chabad event for the first time.
On the 3rd night, the children of the Southend Cheder, run by Chabad under Mrs. Sufrin, in conjunction with Southend & Westcliffe Hebrew Congregation, attended the public lighting on the Cliff Pavilion, led by Rabbi Barr, with guest speaker Rabbi Sufrin.
The festivities and public celebrations continued in Loughton and Chigwell on the 4th and 5th nights, with many local Councilmembers, dignitaries and hundreds of wider community members attending all of these events.
The public lightings in Loughton and Chigwell were emceed by Rabbi Odom Brandman of Chabad Buckhurst Hill. Opening words were shared at each event by Rabbi Sufrin, who has served the area for over 30 years and been responsible for building the infrastructure and community cohesion to arrange these wide reaching public events. Guest of Honor at the Loughton Public Menorah Lighting was the Mayor of Loughton, and at the Chigwell Lighting was the Chairman of the Epping Forest Council, who is the Queen's personal representative for Essex and the highest ranking Council member in the whole district.
On Saturday night was the Gants Hill Menorah Lighting, now in its 30th year, which was attended by the Mayor of Redbridge – Cllr. Barbara White, local councilors, and a dear friend to Chabad Cllr. Alan Weinberg.  This was followed by a Chanukah party at the Gants Hill Chabad Centre, attended by approx.. 250 men, women and children.
Bochurim from the Yeshiva in Brouny, France, were on hand to help throughout Chanukah, helping at all the public events and visiting many local people in hospitals and old-age homes, bringing them the joy and warmth of Chanukah.
The eight day celebration of Chanukah was concluded in style in Essex, with Chabad's closing event in Buckhurst Hill. A public Menorah Lighting was hosted at the top of Queens Road, followed by a Glow-in-the-Dark family and community party at Chabad's Centre on Epping New Road, featuring the country's and possibly the world's first full Lava Lamp Menorah.
The Guest of Honor, Chairman of the Buckhurst Hill Parish Council Cllr. Aniket Patel, lit the first candle, welcomed the crowd, and committed to helping ensure a public Menorah in Epping next year in a prominent position near to the Council Offices!
Following the public Menorah Lighting, the community was invited back to the Chabad Centre for a Family Party. Themed as a Glow in the Dark Party, special UV Blacks lights lit the room, even the drinks were in highlighter glasses, and activities included hama beading, glow in dark face paints, doughnut decorating and glow stick bowling.
Chabad in Buckhurst Hill has traditionally created a featured Menorah for its events. In the past they have made a Pearl Menorah, Coin Menorah, Can Menorah, Recycled phones Menorah, Chocolate Menorah, and probably their most famous to date was the Whisky Menorah built containing 65 litres of single malt whisky.
This year, Chabad member Desmond Solomon together with Shlucha to Buckhurst Hill this year, Bassie Sacks created a Lava Lamp Menorah, a bubbly, colorful and bright work of art in special custom made tubes.
Rabbi Odom Brandman, director of the Buckhurst Hill Chabad Centre, said "Chanukah is such a happy time of year and it was amazing to see the community come out in great numbers to support these fantastic events as they do every year in growing numbers. Chanukah is a time to spread light, warmth and community spirit and these events go a long way in encouraging this spirit in people".
Added Rabbi Sufrin MBE, regional executive director, "at this time when we are threatened by negative forces spreading evil and darkness, we were adamant to increase our public lightings events.
"With our fellow Shluchim and the communities support, we have reached our biggest exposure this year to the wider community throughout Essex with our 5 public lightings and 10 static Menorahs, bringing light, peace and humanity to counter the evil forces. The story of Chanukah is repeated. We are all delighted with the outcome."