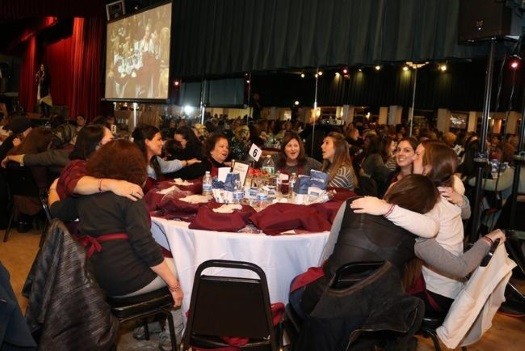 Over 1,000 Jewish women from the Greater Boston area and an immeasurable amount of good will, good thoughts, and community spirit graced the Mega Challah Bake that celebrated unity and gratitude to G-d.
The event, a "hakhel," an assembly of Jews, was repeated in cities around the country (New York, New Jersey, Atlanta, Cleveland, Boulder, San Diego and more) and the world (South Africa, Israel, London), all on Thursday evening, all beginning at the same evening hour. In Dedham, the event was held on Oct. 22 at Mosley's on the Charles.
"It felt exciting to be part of the project that was pulling together Jewish women from all over the world," said Beth Fox of Newton.
Women came with their adolescent and teenage daughters, their friends, sisters, colleagues and sisters-in-law. They came from all over, as far away as Danvers, Framingham, Lynn, Marlborough, Medford, Norwood, Peabody, Sharon, Somerville, Walpole, and even Providence, R.I. Some, such as Yulia Costello from Dover, was a first time challah maker. "I loved it," she said, at the end of the evening. Nhien Bui from Dorchester, had made challah previously but wanted to learn more about Jewish challah traditions for her upcoming wedding.
The 1,000 women added and mixed ingredients together and punched and kneaded dough. While they were waiting for their dough to rise, the women and girls of each table locked arms and sang "Hinei Ma Tov u'Manayim, Shevet Achim Gam Yachad."