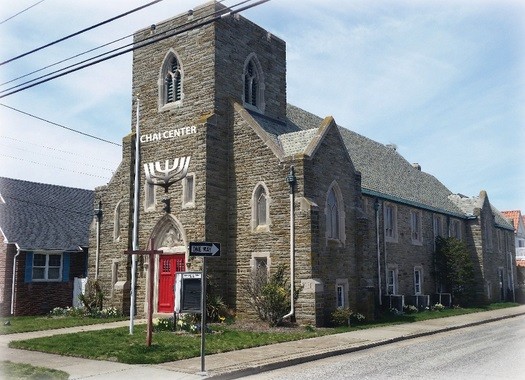 A miracle unfolded in Atlantic City, New Jersey, a few months ago – and Chabad Shliach Rabbi Avrohom Rapoport recounted the tale in an interview with Arutz Sheva.
From Arutz 7:
"We have a nice shul in Ventnor," Rapoport began. "We've rented out a nice little storefront for seven years."
"In the summer we're very busy, because it's a vacation town; in the winter, it's a smaller community."
But that community was endangered when the unexpected happened.
"A few months ago something happened that changed everything for us," Rapoport said. "We were in the middle of davening, it was the coldest day of the year – it was a Friday night – and suddenly water started spraying into our building from an abandoned store next store."
Water flooded the small shul. The congregation rescued the Torah scrolls, but they faced a bigger problem: the lack of a building for the community to use for prayer and as a center of Jewish life.
"We ended up davening at my home for several months, but it was not a solution," the Rabbi recounted. "The problem was that summer was coming, we'd have over 100 people every week and there was no place todaven, there was no place to rent, there was nothing for sale – and we were very concerned, because we had a very beautiful community and we had no way to have them all come together."
A miracle happened, here
The shul looked for a long time, finding nothing – until they found an unusual listing.
"One day we looked on the Internet, a real estate website, and we see that there's a church that's for sale – a very large property (…) and we saw that they only wanted a million dollars."
Rabbi Rapoport explained that the market for churches is down in the US; most premises are being sold merely for the value of the land. But for a small community, one million dollars was a vast sum.
"That was a lot of money, something that we just couldn't even fathom putting together," he noted. "But we had no other choice; so we made a deal, we went under contract, we really did not have a plan."
While the shul managed to get a loan, they were still tasked with raising $200,000 – in a very short time. Somehow, they pulled it all together.
"We worked very hard in a very short amount of time, we were able to raise the money, and now we have a magnificent facility – something that is just a beautiful facility to bring the community together," he said. "We have a social hall, we have a school building, we have gardens and a yard – and suddenly we found that we have been able to reach so many more people."
High Holiday services attendance more than doubled, for example, from just 120 people "with a little room for one or two more," to 250 people.
As they say – משנה מקום משנה מזל  (English: Jewish principle that you change your luck when you change your place – ed.) – as as our sages also say […] make a bigger vessel, Hashem will send the bracha," he reflected. "We've seen that, we're very lucky with our new building and we're looking forward to being able to do much more for the community this coming year."