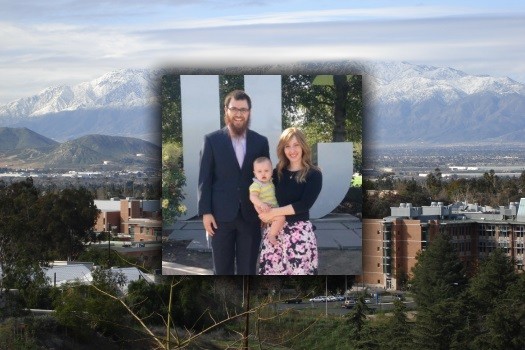 University of California-Riverside. Inset: Rabbi Matisyahu and Nechama Devlin.
A young Jewish couple has traveled more than 2,500 miles with their 10-month-old son from Brooklyn, N.Y. to provide UC Riverside students with free WiFi, a kosher meal and a safe space to discuss Judaism.
Rabbi Matisyahu Devlin and his wife, Nechama, plan to open a Chabad house – a 24-hour comfort zone for both Jewish and non-Jewish students. Both the rabbi and his wife will hold classes requested by the students and weekly Shabbat dinners, and will provide consistent support for the Jewish community.
"We just wanted a place where we can feel safe and there can be a positive environment for Jewish students or … basically anyone that wants to come and learn about Judaism," said Dana Rutherford, a bioengineering Ph.D. student.
Rutherford helped lead the call for a new rabbi and rebbetzin after several Jewish friends told her they struggled to connect with other Jews. She and a group of students asked Rabbi Shmuel Fuss, who served both UCR and the larger Riverside community, to bring a couple to campus to serve as sort-of surrogate parents or mentors.