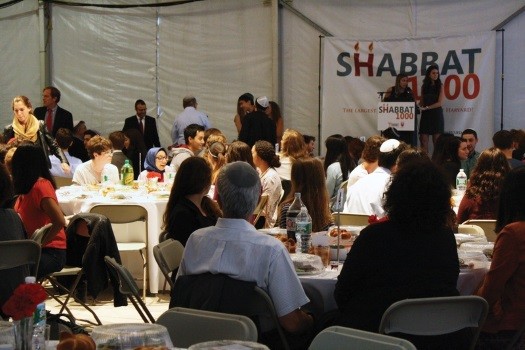 Photo: Michelle M. Ng
Hundreds Gather for 'Shabbat 1000' at Harvard
Roughly 800 students and faculty members packed the Science Center Plaza this past Friday evening for "Shabbat 1000," a massive dinner co-organized by Harvard's Hillel and Chabad organizations. Organizers said the event was the largest of its kind in Harvard history.
For the dinner celebrating the Jewish Sabbath, event organizers welcomed students of all backgrounds, and during the Torah reading each table had a transliteration of Hebrew prayers that allowed participants to follow along.
"The idea is to invite students from every background and degree of observance to find their place at the table of Jewish life," said Rabbi Hirschy Zarchi, a co-founder and director of Harvard Chabad.