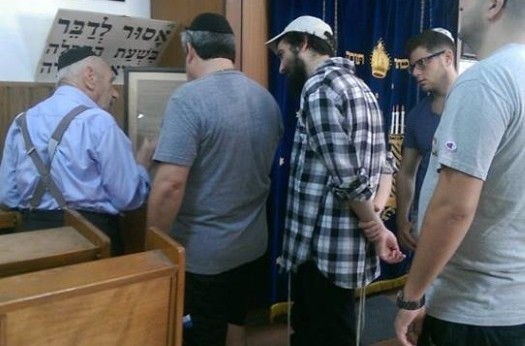 Pesach Steiner, the 92-year-old gabbai of the synagogue, shows off a bit of history to volunteers cleaning the building.
It sounds like a story lifted from a Hassidic tale: With Rosh Hashanah fast approaching, a new rabbi was in need of a synagogue. After running around town trying to secure a location for the holidays, he had all but given up, until he met a 92-year-old gabbai who just happened to have the keys to an abandoned synagogue across the street.
But the story is true, and it happened on Tel Aviv's trendy Bograshov Street, where Rabbi Eli Naiditch is organizing a Chabad synagogue for the city's English-speaking olim. He and his wife moved to Tel Aviv less than a month ago from Safed to start Chabad on the Coast. He'd spent the last few weeks running around the city, meeting with hotel managers, desperate to find a place to hold the holiday services.
"For English speakers, Rosh Hashanah and Yom Kippur are a huge time to go to services," Naiditch told The Times of Israel amid last-minute holiday preparations. "You've got those Yom Kippur Jews, and suddenly people are looking for a place to pray. We're not charging membership fees, which makes people feel more comfortable."
One late August morning, Naiditch ducked into a synagogue on Bograshov Street for the morning Shaharit services, He began his familiar appeal, asking if anyone knew where he could find a synagogue for rent. Pesach Steiner, 92, overheard the conversation. They walked across the street and Steiner opened the door to a small synagogue called Chug Chassam Sofer, which has been closed for almost a decade.
"Everything was covered in a thick layer of dust, and there were boxes and boxes of old books from the 1800s and early 1900s just in shreds," said Naiditch.