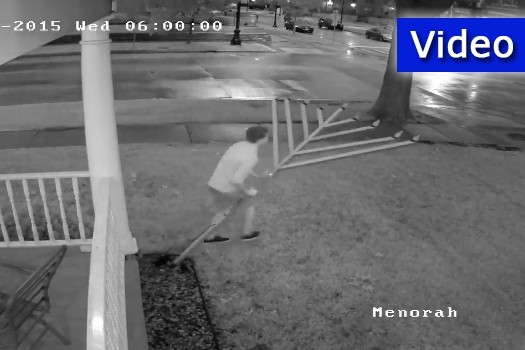 The 20-year-old Parkland College student who was allegedly caught on camera vandalizing a menorah outside the University of Illinois Chabad Jewish Center didn't do it out of hatred, police say.
From The News-Gazette:
"We're not classifying this as a hate crime because it wasn't directed at anyone," University of Illinois police Lt. Tom Geis told The News-Gazette on Friday. "It was more of him wanting to collect an artifact as opposed to targeting anyone."
During an interview with Sgt. Barb Robbins following his arrest Tuesday evening, Max W. Kristy admitted he had been drinking when he vandalized the menorah at 5:59 a.m. Aug. 19, UI police say. He was issued a notice to appear in court Sept. 8, when he'll face charges of criminal damage to property, according to Geis, UI police's lead investigator.
Geis said Kristy and a couple of friends had been drinking at campus bars that evening and walked to the County Market at Fourth Street and Springfield Avenue in Campustown to buy cigarettes.
Kristy spotted the menorah outside the center at Fourth and Healey streets on the walk and knew it was a Jewish symbol, but said he didn't know what it was called, Geis said.
He decided he wanted to take it to give to a Jewish friend, police say.
Click here to continue reading at The News-Gazette.