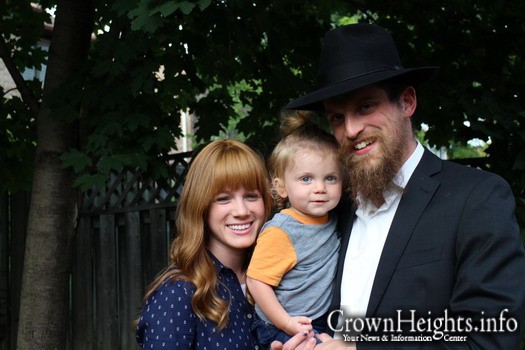 Rabbi and Mrs. Moishe and Mattie Schurder  have moved with their son Mendel on Shlichus to Markham, Ontario, to work on Shiurei Torah, coordinating youth activities and developing the young family demographic within the community.
The new Shluchim were appointed by Rabbi Avrohom Ela Plotkin, Executive Director of Chabad Lubavitch of Markham.
As the community in Markham continues to grow with a large membership base of over 400 families and thousands of affiliates, there is a great need for personal attention especially for the large group of young families.
Moishe and Mattie bring with them a wealth of experience. Having grown up in Markham on Shlichus,  Mattie is extremely familiar with the families  and their children.
Moishe will be expanding the Shiurei Torah program. After many years of involvement in developing classes online and teaching, he will bring his experience to Chabad Markham to bring a new life into the adult education program.
They look forward to becoming an important part of community's growth and success.
Rabbi Schurder will also be teaching at the Mesivta Lubavitch Toronto under the auspices of Rabbi Zalman Oster.
A special thanks to Rabbi Zalman Aaron Grossbaum, Executive Director of Chabad Lubavitch of Ontario, for his guidance and assistance.
Help the new Shluchim by committing a monthly (or one time) donation in their honor at Chabadmarkham.org.