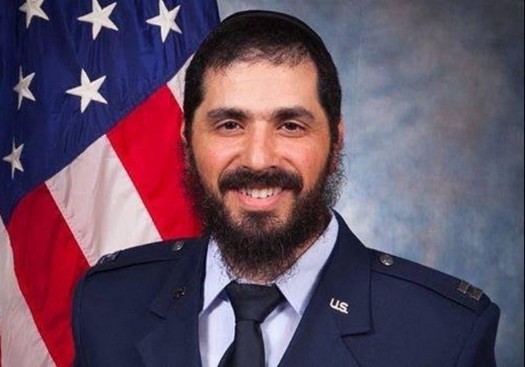 In 2014 Rabbi Elie Estrin became the first chaplain in the US Air Force, and this week he celebrated a new landmark as he upgraded to the post of the Air Force's first bearded officer.
Rabbi Estrin is, together with his wife Chaya, the co-director of the Rohr Chabad House for Jewish Life at the University of Washington in Seattle. He graduated on Monday from Officer Training School at the Maxwell Air Force base in Montgomery, Alabama.
In January of 2014, the military ban on wearing a beard and other such displays of religious belief, was lifted by the Pentagon, paving the way for Rabbi Estrin to join the military chaplaincy.
During the five week Commissioned Officer Training Course, Rabbi Estrin ate Kosher MRE's (ready-to-eat meals) and said that staff were fantastic about facilitating his required accommodations, some of which included his adherence to Shabbat and the 25 hour fast of Tisha Be'av, a day which commemorates the destruction of the second temple in Jerusalem.
Estrin, 35, and father of five, described his work for the armed services as "a logical extension of his existing service to the Jewish community".