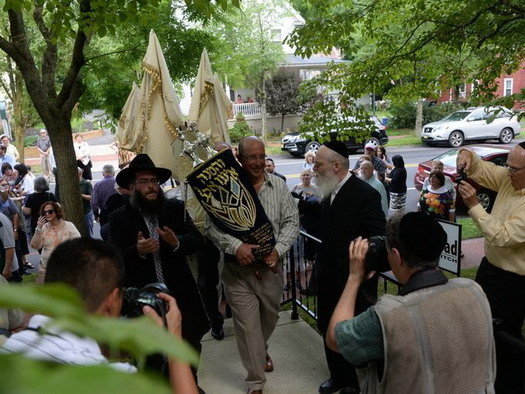 Dozens of people gathered in the Chabad Jewish Community Center in Medford, NJ, this past Sunday to celebrate the completion of a brand new Sefer Torah. It was the first time in history that a Torah had been completed in Medford, a suburb of Philadelphia that has never had a large Jewish presence.
From Philly.com:
The special occasion was celebrated with a parade Sunday down Main Street to the new Chabad center.
"There was no place for Jewish people to congregate before," said Barry Tuman, one of the founding members of the Chabad in Medford. "We used to have to go to Cherry Hill or Camden."
Chabad in Medford went from fewer than 10 people – "wandering Jews," as Tuman put it – getting together at the Medford Community Center or the local Masonic Lodge 12 years ago to more than 100 families that can now gather at the Chabad-Lubavitch center on Main Street.
The center is scheduled to expand, a sign of the growing Chabad movement and Jewish population in Burlington County.
"This is the soul of the physical building," Paul Litwack said during the Torah completion ceremony Sunday.
Litwack and his wife, Pam, commissioned the Chabad Medford Torah in honor of their parents.
The writing of the Torah, Judaism's basic sacred text containing the Five Books of Moses, began on Feb. 9, 2014, at the Litwacks' home.
The Brooklyn scribe, Rabbi Moshe Klein, inked in the first 100 letters of the 304,805-letter scroll in February. The scroll was then shipped back to Israel, where one Israeli scribe worked on it for a year before shipping it back to New Jersey for completion.
Because the scroll must be written by only one scribe – to ensure consistency and uniformity in all the letters – the last 100 letters were outlined by the Israeli scribe for Klein to fill in Sunday.
"It's a very, very big process," Klein said Sunday as he took turns posing for pictures and letting families hold the feather while he inked another letter.
Although he would not disclose how much he paid for the commission of the Torah, Litwack said Torahs are costly.
"It's just incredible," Burlington County Freeholder Joanne Schwartz said. "They are the holiest object in the Jewish religion."
Once the Torah was completed Sunday, Rabbi Yitzchok Kahan, director of the Chabad in Medford, led the large crowd in a parade down South Main Street with the Torah rolled up and tucked in a velvet mantle.
A pickup truck led the way with a Jewish musician playing Hasidic music from the back.
Rabbis from around South Jersey and community members danced, sang, and clapped all the way down to 74 S. Main St., the new and improved Chabad in Medford.
Rosy-cheeked from the celebration, Kahan said he was ecstatic with the outpouring of support.
"Who would've thought we would be dancing in these streets with the Torah?" he told the crowd.