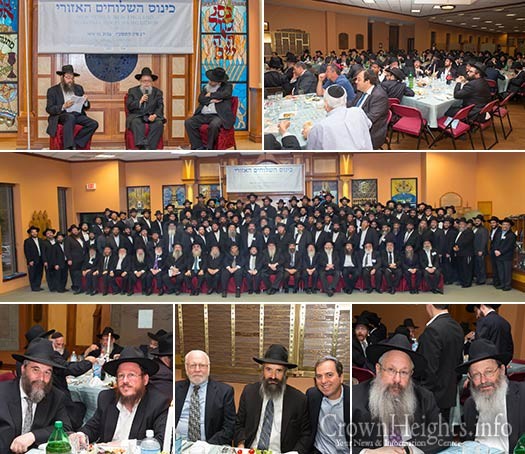 The numerous standing ovations during the gala banquet of last week's New York and New England Regional Kinus echoed the overall feelings of empowerment, excitement and renewal of the attending Shluchim.
The Kinus was generously hosted by Chabad of Dix Hills and Rabbi Yanki Saacks. Shluchim from all parts of the region poured in throughout day, and were greeted with a lavish, delicious spread.
Rabbi Yanki Saacks commenced the day of inspiration with a Dvar Torah. Following, was a panel of Rabbinic liaisons and chaplains of local medical centers, addressing End of Life Issues in Halacha.
Rabbi Yitzchok Raskin gave a quick overview of the critical awareness which are necessary to ensure Kashrus of Tefillin and Mezuzos. "It gave me a perspective on the complex Halachos having to do with Mezuzah," said Rabbi Leibel Baumgarten, Shliach to East Hampton, NY, "Now, I understand that there are more Halachos than we think there are, and it's important to keep learning."
Educational consultant and mentor, Rabbi Zalman L. Markowitz shared his insight into the Chinuch of Shluchim's children and its deep importance.
Back to back sessions of JLI and Cteen Chapters were of prime value for Shluchim who run these programs in their local Chabad Houses. Rabbi Shlame Landa, Rabbi Dovid Weinbaum and Rabbi Shimon Rivkin formed the Cteen "All You Need to Know" panel, while Rabbi Yossi Mendelson and Rabbi Mendel Teldon were on the JLI "Best Practices" panel.
Rabbi Levi Garelik delivered a practical Halacha workshop, followed by "Tzav Hasha'ah" presented by Rabbi Moshe Kotlarsky. Rabbi Nussy Gurary, Rabbi Yosef Gopin and Rabbi Yitzchok Raskin shared more of the guidance received from the Rebbe for Shluchim.
To conclude the day was beautiful Gala Banquet and Farbrengen which left everyone feeling uplifted and encouraged. "The Achdus was palpable," said Baumgarten.
Rabbi Moshe Kotlarsky, Chairman of the Regional Kinussim, shared highly inspiring experiences of his travels to Chabad Houses around the world. He urged all the Shluchim in the room to strengthen their efforts of bringing Yidden to the Rebbe before Gimmel Tammuz
"Every place, every person and every Shlichus is unique," said Rabbi Tuvia Teldon in his Keynote address. "Each place has its own set of hurdles, and each place has its own set of merits." Rabbi Teldon's message was one of encouragement and empowerment.
The Shluchim Farbrenged late into the night, before heading back to their posts to continue their vital work.
"The general feeling and feedback from the Shluchim was outstanding," said Rabbi Saacks. "They enjoyed and gained so much from the Kinus."