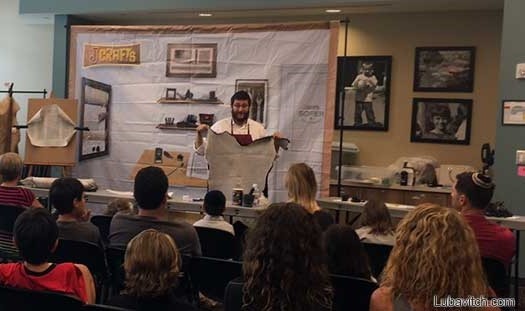 Tweens get a crash course on scribal art in Atlanta, Georgia.
What's Inside That Pretty Mezuzah Case?
It's not all that unusual to discover that rolled inside that decorative mezuzah case you purchased in Israel or at your local Jewish gift shop, is not the scribe's handiwork on parchment, but a piece of printed paper.
Chabad representatives in Austin, Texas, and New Paltz, New York, both made this discovery on the same day last month.
In dozens of cities across the United States, Chabad's JCrafts program is educating consumers so that they are well informed of what to beware of when purchasing their mezuzahs.
"Mezuzahs are supposed to be etched on parchment made from hide and written with a feather quill. There are numerous guidelines that an expert Jewish scribe adheres to when inscribing a mezuzah," says Rabbi Yosef Levertov, the Chabad representative from Austin.
Dr. Michael Coverman, an Austin dermatologist, considers himself a reform Jew, brought up conservative, who had observant grandparents. The doctor loves Jewish observance and would never forgo having a Mezuzah on his doorposts. "I kiss the Mezuzah when I go in and out of the house, my grandparents did it and I do it too. It reminds me of where I came from" he says.
But the doctor never really thought about what goes into an authentic mezuzah, or how one is made. "Although recently I learned that it says the Shema verses, from Deuteronomy in there."
The dermatologist, while keeping his membership at the reform temple, has a deep connection with Levertov. The Austin Chabad representatives is always encouraging locals to check their Mezuzahs, and offered to do that for the doctor. Coverman could not understand why there would be any need, but relented to the rabbi's request. The Mezuzah turned out to be made out of paper.
"Never did I dream that it wouldn't be a proper mezuzah," Coverman says. "It's almost like saying to someone this is a diamond and it is really plastic."
The doctor and the rabbi say that more education is needed about what a Mezuzah is. Levertov has already begun to educate people at local fairs and is now considering introducing a Jcrafts scribal workshop in Austin.
The JCrafts workshops are based on the idea that children and adults learn best by having a hands-on experience. The workshops offer many classes on skills that required for particular mitzvoth, such as learning how to make olive oil for the Chanukah menorah, matzah baking for Passover, Hebrew calligraphy and quill making at the Mezuzah workshop.
In Atlanta, Georgia, Levi Mentz, director of Jcrafts, a project of Chabad of Georgia, says that the workshop on scribal art and the mezuzah is one of the most popular workshops for adults and kids. Donated by Rabbi Moshe Klein of Hasofer in New York, Mentz presents different types of hides from kosher animals that are used to make mezuzahs and Torah scrolls. He shows them how the hides are turned into parchment, how a feather is used to make a quill and how to write their name in the calligraphy style that the scribes use.
The participants become so intrigued, they become curious about the mezuzahs they have hanging on their doorposts. "As they get involved writing and learning, they become so engaged and begin to ask questions about the mezuzah on their home," he says.
Following each workshop, he gets many emails and inquiries. Last month a family came to him after a workshop saying that they checked to see what's inside the mezuzahs that they purchased in Israel, and found them to be paper. He directed them to Hasofer, who leads a team of highly educated scribes in writing Torah scrolls, mezuzahs and Tefillin.
The Chabad representatives insist that it is important to purchase a Mezuzah from a certified scribe and not a Mezuzah that comes with a case at a local gift store. Unfortunately, many manufacturers of mezuzah cases put paper copies of mezuzahs in the cases, which is misleading to consumers who are not aware or knowledgeable. "The Mezuzah is not about the beautiful case, it is about the parchment inside," Levertov says, explaining that the cost of a new mezuzah is minimal compared to the other costs of the home. "It is important to get the best mezuzah possible."
Levertov notes that the mezuzahs also needs to be checked at certain intervals to see that they were not damaged by the weather or other elements.
Coverman now has a kosher mezuzah and knows what to look out the next time he buys one.