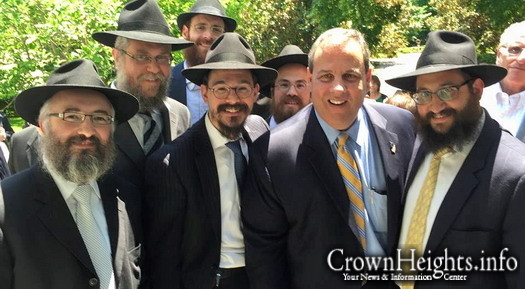 In what has become an annual tradition, Governor Chris Christie hosted a luncheon at his Drumthwaket mansion in honor of Jewish Heritage Month. The event, which highlights the contributions of the Jewish community to the State of NJ, included 7 Shluchim among the approximately 50 Jewish leaders.
"The Jewish community has always made tremendous contributions to this State and I am here today to salute all of you and your communities" said the Governor.
While head Shliach Rabbi Moshe Herson could not attend due to other obligations, he pointed out that the significant percentage of Shluchim in attendance is reflective of the standing Chabad has within the Jewish community of NJ.
This fact was not lost on Rabbi Avi Richler, Government liaison on behalf of Chabad in NJ and Director of Chabad of Gloucester County.  "One cannot have a conversation about the Jewish community in NJ without recognizing the amazing work of NJ​Chabad's regional headquarters, the Rabbinical College of America, and its 52 affiliate Chabad centers, directed by the over 100 Shluchim emissaries ​in the State who give their heart and soul to the community" said Richler, "it is truly a testament to the Rebbe's vision and mission in reaching every Jew".
Also in attendance were Rabbi Hersh Loscahk, Glassboro, Rabbi Yitzchak Goldenberg, Lawrenceville​, Rabbi Moshe Gurary, Toms River​, Rabbi Eliezer Zaklikovsky, Monroe Township​, Rabbi Kivi Greenbaum, Ewing, and Rabbi Shmaya Galperin, Holmdel.