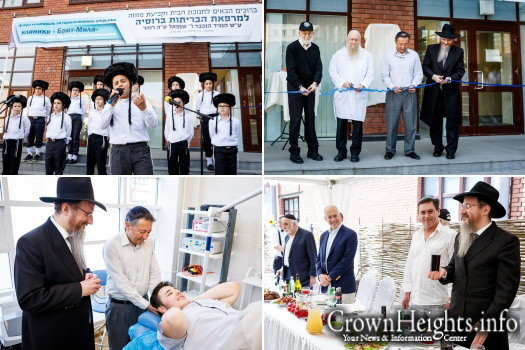 Russia's chief Rabbi, Berel Lazar, along with other dignitaries and community leaders, joined philanthropist George Rohr in Moscow on Sunday to cut the ribbon to a brand-new, state-of-the-art clinic that will be used to perform circumcisions on Jewish boys and men of all ages.
From Lubavitch.com:
At Marina Roscha—Moscow's Jewish Community Center—men and women make life changes on a daily basis as they discover their Jewish traditions.
"Today there will be five circumcisions here," noted Rabbi Berel Lazar, the country's chief rabbi, Monday afternoon.
Remarkably, they are young and not-so young men who, having learned about the fundamentals of Judaism, are choosing to have a brit mila.
Lazar greeted a group of visitors, board and staff members of Avi Chai on a tour of Moscow, who accompanied Mr. George Rohr at the ribbon cutting of The Shmuel Rohr Brit Mila Clinic of Russia, named for Mr. Rohr's father.
"The idea is to do what we can so that the brit does occur on the eighth day," said Rabbi Lazar. Until then five circumcisions a day, on average—many for adults, not babies—is all in a day's work at the Brit Mila Clinic, which now has its own dedicated facilities.
Photos by Levi Nazarov