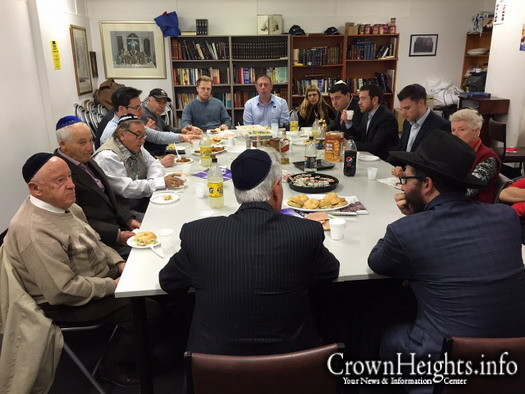 Jewish-Australian philanthropist Jack Smorgon, AO, delivered a lunchtime address at Chabad of Melbourne-CBD on Wednesday, May 27, titled "One never knows what the future holds for him."
The relevance of the title became clear as Mr. Smorgon described the various positions that he had held since the Smorgon Group of Companies disbanded in 1995, following his involvement that had extended back to 1954. He had served as Managing Director from 1976 until 1991.
Mr. Smorgon told of how he had been asked to chair the Australian National Railways Commission in 1995, discovering that the ANRC as then constituted was unsustainable. Upon the recommendation of his committee, the Federal Government agreed to privatise the railways. Mr. Smorgon was then appointed Chairman of the Federal Government's "Revitalising Rail" taskforce in 1999 by then Prime Minister John Howard.
Jack Smorgon AO has always had a deep involvement with the Jewish community, especially with the United Israel Appeal/Keren Hayesod, serving as Federal President of Australian UIA for six years until 2012 and Victorian Chairman for twelve years prior to 2006. In 2001, he joined the Jewish Agency's Board of Governors and has served ever since as Chair of the Partnerships and Activism Committee.