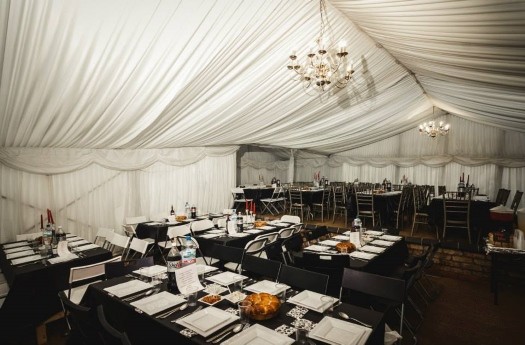 Hundreds of hungry students and community members descended on Chabad of Nottingham, UK, for a four-course dinner at its annual 'Shabbat 200′ celebration.
Guests praised the "truly amazing" atmosphere at the event, which was hosted by Rabbi Mendy Lent, his wife Brocha and their four young children – who often welcome up to 100 students from Nottingham's campuses to their home for Shabbat dinner.
This year's Shabbat 200 event – which Rabbi Mendy says was "extra special" – was held in a marquee in the Lents' garden, with guests enjoying musical entertainment in addition to a "fantastic" four-course meal.
The Notts Chabad offers a "home away from home" for Jewish students studying at Nottingham and Nottingham Trent Universities, and the event saw regulars join new faces to enjoy "a delicious meal, singing and friendship".
Rabbi Mendy said: "the entire evening flowed beautifully…it was absolutely spot on.
"Shabbat 200 was a real highlight of our 7 years here in Nottingham. Although we host large crowds every week, we wanted to some something extra special, and the meticulous planning all came together for a truly wonderful evening.
"We wanted the students to feel special, and to feel that Shabbat is special, so we tried to ensure that the marquee and tables was as elegant  as possible. People were open mouthed when they walked in, it felt like a Simcha."
Maya Lightman, a guest at the dinner, said: "Mendy and Brocha were welcoming as always. They both go that extra mile, and together with their four children give so much into making Nottingham a lovely place to be a Jewish student".