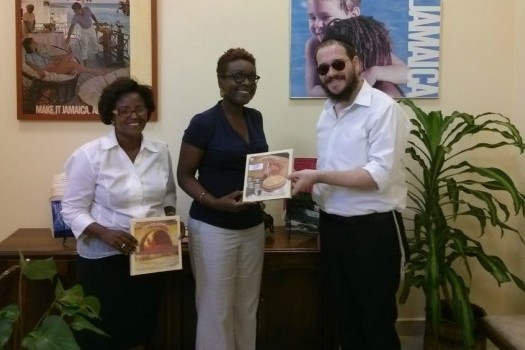 Rabbi Yaakov Raskin distributes shmura matza for Passover to local Jamaican residents.
Most people go to Jamaica to relax, but Rabbi Yaakov Raskin and his wife Mushkee aren't there to take it easy. As the first-ever permanent Chabad emissaries to the island nation famous for rum, reggae, and runners, they have been hard at work since last fall, serving the Jews who live and vacation there.
Like other Chabad emissaries sent to remote locations with few permanent Jewish residents but many Jewish tourists passing through (such as Kathmandu, Nepal, recently in the news following the devastating earthquake there), the Raskins are challenged with the task of catering—not only spiritually, but also literally in terms of kosher food— to a varied, far-flung community with few existing Jewish institutions.
The young couple, expecting their first child this summer, arrived in Montego Bay right before last Rosh Hashanah, in September 2014. Montego Bay is the city most tourists fly into, and it is also relatively close to island's other major vacation destinations, such as Negril and Ocho Rios, where the large cruise ships dock. They are across the island from the capital of Kingston, where most of Jamaica's approximately 200 permanent Jewish residents live.
Despite Rabbi Raskin's being based in Montego Bay and busy with what he estimates to be the 100,000 Jewish vacationers passing through annually, he travels regularly all over the island seeking Jews to meet and try to bring closer to Judaism.