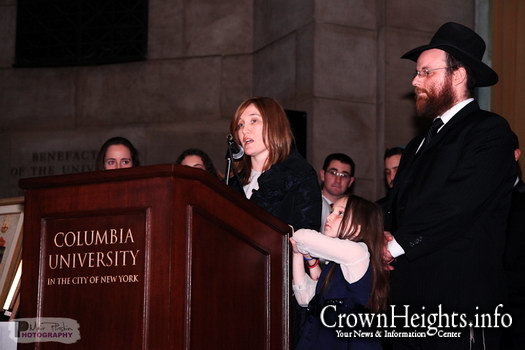 The Forward yesterday Profiled Shlucha to Columbia University Keren Blum, detailing her journey from an agnostic and rebellious teenager to co-director of a Chabad Center in one of New York City's most prestigious universities.
From The Forward by Simi Horwitz:
At the age of 13, Keren Blum told her parents that she was an agnostic. Because she also became a vegetarian at that time, her parents, Conservative Jews, were troubled by what they perceived as rebelliousness. They tried to make Judaism joyous and meaningful for her — in vain, at least initially.
Blum completed her undergraduate degree at Hampshire College in Amherst, Massachusetts. During her college years she ran Necessities Necesidades, a domestic abuse hotline and women's shelter in Northampton, and wrote a thesis on the nutritional healthcare of pregnant women suffering from HIV.
But her parents had never quite given up on their daughter's return to Judaism. When she was 19, her mother asked the local Chabad rabbi to reach out to her daughter. He invited Blum to a Shabbat dinner at the Chabad House in Amherst. At the same time, a friend struck a bargain with her. If Blum was willing to attend a weekly class about Hasidism, she would get involved in the women's center on campus.
One dinner led to another. As she listened to the Chabad teachers and read the books on the shelves, she encountered a Judaism that she could identify with: "It blew my mind. The Conservative Judaism I knew talked about rules and lifestyle and had no meaning," said Blum, 40, wearing a sheitel, a loose-fitting top and mid-calf length skirt, in the converted brownstone near Columbia University that serves as the university's Chabad center. She has been co-running it with her husband Yonah Blum for 18 years.