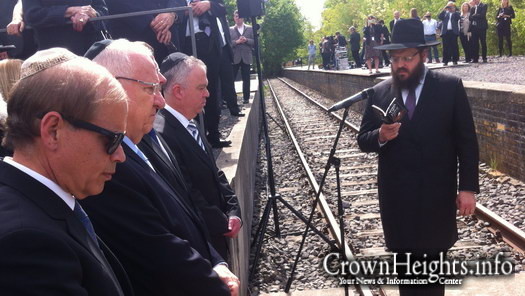 The President of Israel arrived yesterday in Berlin to participate in a series of events commemorating 50 years of political ties between Germany and Israel.
President Reuven Rivlin took part in the ceremony at the Platform 17 – the infamous place from where 55 000 Jews were sent to death camps. A memory prayer was recited by Rabbi Yehuda Teichtal – the rabbi of the Jewish community of Berlin and the chairman of the Jewish Educational Center Chabad. Kaddish was read by the other rabbi of the Jewish community.
At the event, President Rivlin spoke about the importance of fighting against all forms of intolerance and antisemitism. After the event he spoke with the Chabad emissaries in Berlin Rabbi Teichtal and Rabbi Shmuel Segal, mentioning his great appreciation for the outreach initiatives and programs of Chabad around the world and especially recently in Nepal with all the help and shelter provided by Chabad.
Today, on May 12th the Israeli President will be a guest of honor at the event with 2500 participants which will be held in the city center to commemorate the 50 years of friendly relationships between Germany and Israel.
It is notable that the food to be served at the event will be kosher and certified by rabbi of the Jewish community of Berlin Rabbi  Teichtal.