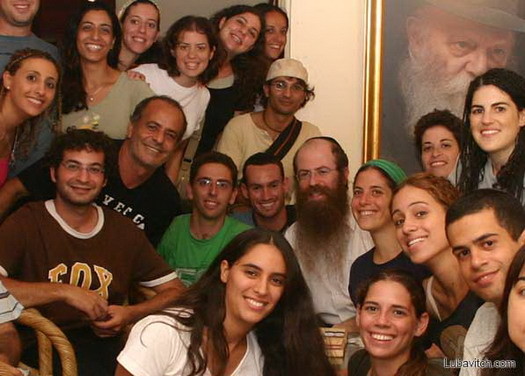 Rabbi Nechemya Wilhelm (sitting center) at the Chabad House in Bangkok, Thailand.
To perpetuate the memory of their sons, kidnapped and slain in 2014 by Palestinians, the mothers of Gilad Shaer, Naftali Fraenkel and Eyal Yifrach established the Jerusalem Unity Prize.
This week, the prize was awarded to four winners individuals, among them Rabbi Nechemya Wilhelm, a Chabad representative in Bangkok, Thailand, who was acknowledged for promoting "unity in the Jewish community over an extended period of time."
"The goal of this prize is to unite all the different segments of the Jewish nation in Israeli, to strengthen the tolerance and mutual respect in our society," said Jerusalem Mayor Nir Barkat, at the ceremony.
Other awardees were: Re'ayah and Yossi Apner, Ram Shmueli and Rabbi David Menachem.
The Chabad House in Bangkok established in 1993 welcomes tourists, including hundreds of Israeli backpackers on a weekly basis. Although the Chabad facility in Bangkok is large, and includes a synagogue, social hall, a subsidized Kosher restaurant, a communication room used by tourists to make contact with their families, there is good reason, says Rabbi Wilhelm, that it is called a Chabad House and not a Chabad center. "This is a home, where everyone is family and all are welcome with no strings attached," he says.
There are currently five Chabad Houses in Thailand.
Wilhelm received the prize on behalf of Chabad of Thailand and the two million people who've come through the doors of Chabad in the last 20 years.
"It is a tribute to you, for placing your differences on the side and illuminating the Jewish spark inside our soul that unites us," the rabbi said.
Yoram Igal, a local Israeli expat who manufactures leather wallets, has come to know Chabad, and Rabbi Wilhelm well. "Compared to what you do this prize is minuscule," he offered.