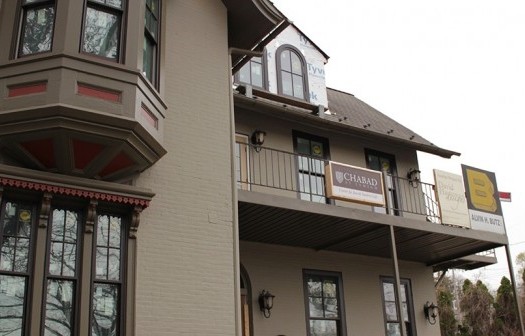 Chabad at Lehigh was established in 2008 with the dream of creating a "home away from home" for the Lehigh Jewish community. Since then, it has seen growth that cannot be contained in its current 2,500-square-foot townhouse on Evans Street. A new house is being built to provide the much-needed space to accommodate and expand the growing programs and events.
"At our first few events, we had between two and 10 students," said Rabbi Zalman Greenberg, the director of Chabad at Lehigh, in an email. "Fast forward to 2014. On Rosh Hashanah, we hosted over 200 students in our backyard, and on Feb. 20 we hosted 'Shabbat 250′ at the Comfort Suites Hotel, where over 250 students and faculty from the Lehigh community participated in the largest Shabbat dinner in Lehigh history. In short, we are bursting at the seams."
The new house, called the Joachim Schaufeld Center for Jewish Life, will be located near campus at 306 Wyandotte St. It is an 1866 historic mansion that once served as a Lehigh fraternity house. Over time, it was neglected and when Chabad took ownership, it was in need of renovations.
Greenberg said the construction is in its final stages and is expected to conclude sometime in June. The 10,000-square-foot home will include a student lounge, large dining room for 200, state-of-the-art kosher kitchen, synagogue, Judaic loaning library, terrace and guest suites with parking. The Chabad House will also serve as the Rabbi's family residence.
The synagogue in the new Chabad house will be the only one in South Bethlehem, according to Jackie Grant, '15.
"Although we hold weekly and holiday services in our current location, having a Synagogue will be very exciting and will encourage more students to attend services," Grant said in an email.
Several members of Chabad have watched it grow exponentially over the years and go from a handful of students at dinner to not having enough room for everyone attending to sit.
"I am very excited about the new house and what it will do for the Jewish community at Lehigh in the years to come," Michael Lefkoe, '15, said in an email. "Chabad has been a key part of my time at Lehigh. As a senior, I have witnessed the Jewish community become much more active and vibrant over the past few years, and Chabad has no doubt helped fuel this positive change."
Lefkoe also said, like a hermit crab that has outgrown its shell, Chabad at Lehigh has outgrown its current house, and it is time to move to a bigger one. He said that nearly every big Jewish holiday has the same problem: There's never enough room to fit everyone comfortably.
Sasha Rubman, '18, said Chabad is Lehigh's best-kept secret and she feels blessed to be a part of it.
"Our little Chabad community grows bigger and bigger with each passing week," Rubman wrote in an email. "The new house, therefore, is definitely a necessity. During Passover, the little house was so packed that extra tables crowded the doorways and people sat shoulder to shoulder. When the new house is completed, we will have the capacity to house many more students."
Jared Eisenberg, '17, said Chabad is like a family. The group has dinners every Friday and gathers for the Jewish holidays throughout the year.
"It is a place where students can congregate and explore their faith, not to mention, the food is always delicious," Eisenberg wrote in an email. "I am incredibly excited for the transition into the brand new, beautiful Chabad house. Rabbi Greenberg and all of Chabad's dedicated members certainly deserve what the new Chabad house has to offer."
Greenberg also said they still require more funds and are planning an endowment fund to sustain a pristine maintenance of the property.
"It's a big hill to climb, but we have come a long way in a short time and we are up for the challenge," Greenberg said.