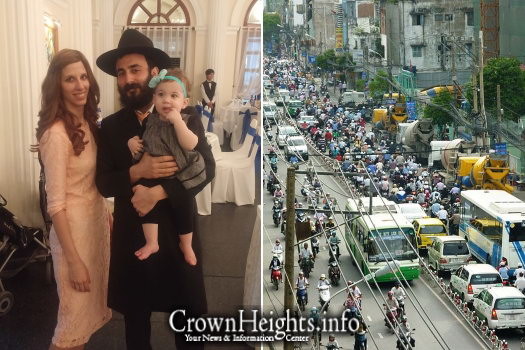 Rabbi Avremi and Esther (nee Yarmush) Hartman, along with their young daughter, will soon be joining the Rebbe's army of Shluchim, servicing the needs of the steadily growing Jewish community in Vietnam.
The Hartmans will reside in Ho Chi Minh City, formerly known as Saigon, where a sizable Jewish community – from businessmen to backpackers – has developed.
The Hartmans will lead youth, learning and outreach programs under the auspices of Chabad of Vietnam, led by Avremi's brother, Rabbi Menachem Mendel Hartman. A Chabad Center in Hanoi, Vietnam's capital city, is in operation as well, led by Rabbi Levi Laine.
CrownHeights.info wishes the young couple much success on their new Shlichus.