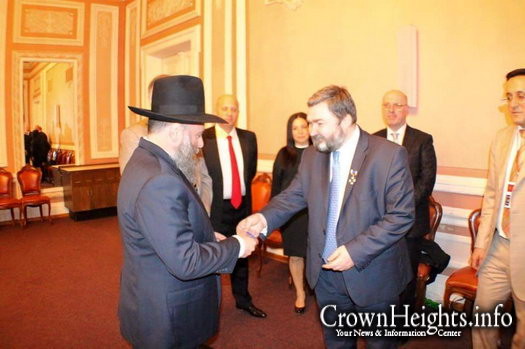 In Kiev, Yud Alef Nissan, the Lubavitcher Rebbe's birthday, wasn't like every other day. Between Farbrengens and other commemorations, the Chief Rabbi and Head Chabad Shliach of Kiev, Rabbi Jonathan Binyamin Markovitch, was honored with a special diplomatic title.
MEP Karol Karski, a Polish member of the presidency of the European Parliament, came to Kiev in order to participate in talks and meetings regarding Ukraine's unstable situation. He had conferences with many of the top level politicians in the country, between other diplomatic sessions.
Together with these meetings, a ceremony was held at the Virchovnya Rada, the Ukrainian parliament, in order to honor Rabbi Markovitch with the title of Diplomat of the European Parliament. Michael and Yanna Stolar, prominent members of the Kiev Jewish community and big sponsors of Chabad activities, were also honored with titles during the ceremony.
"It is with great pleasure that the European Parliament honors Rabbi Markovitch with the title of being one of us", said MEP Karol Karski during his speech. "His work with the Chabad community, the Jewish community and all people of Kiev who were touched by Rabbi Markovitch's amazing work during the years, entitles him to be a honored diplomat of the European Parliament", finished MEP Karski.
Rabbi Markovitch talked about Yud Alef Nissan and the lessons from the Rebbe that can be learned and used by all nations around the world. With the proximity of Pesach, Rabbi Markovitch spoke about the ideals of freedom and how the Torah explains this subject.
At the end, all participants at the ceremony thanked Rabbi Markovitch for the words of wisdom and encouragement, and compromised to do all in their power in order to guarantee the security and harmony for the Jewish population worldwide.