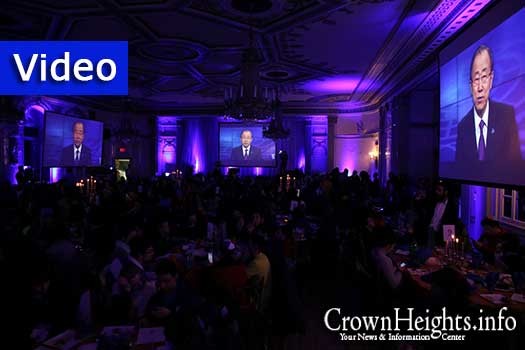 March 1st, over 1500 Jewish teens attended CTeen's international convention in New York. The conference brought together teens from Brazil, Hong Kong, France, England, Australia, Israel, Canada, Germany, Singapore and the US, their staff, Rabbis, political leaders and guest educators for an important weekend of teen engagement.
UN Secretary General Ban Ki-moon addressed the teens via video message on Sunday, at the CTeen banquet dinner.
""Shalom, Bruchim Ha-baim [BROOCHEEM HABA-EEM], (Welcome)"" Ban Ki-moon announced as he began his remarks, with the traditional Hebrew greeting.
He offered a message of solidarity to the CTeen delegates from Paris, France.
"A special welcome also to the 100 young people from Paris. The thoughts of us all are with those who have lost family and friends in the recent horrific terrorist attacks in that city"
He applauded the work of CTeen and encouraged the delegates to further their humanitarian work within their communities.
"Chabad institutions such as CTeen  ['See-Teen'] have a strong reputation for working in the community. This year you will honor young people who have made a significant difference in people's lives through CTeen's social service projects.
To them we say, thank you – and keep up the good work…
"The United Nations stands ready to work with you," Ban Ki-moon told the crowd.
CTeen, Chabad's Teen Network, reaches 10,000 Jewish teenagers weekly through its 150 chapters worldwide
"The weekend was an unimaginably powerful experience for them, an invigoration and inspiration that they will take back to their communities around the world." said Rabbi Moshe Kotlarsky, chairman of CTeen International and vice chairman of Chabad headquarters.
"an unforgettable learning, memorable experience that made us grow in Judaism and faith", said  Rochelle Zwolinski, 17, of CTeen's Fairfax, VA chapter.