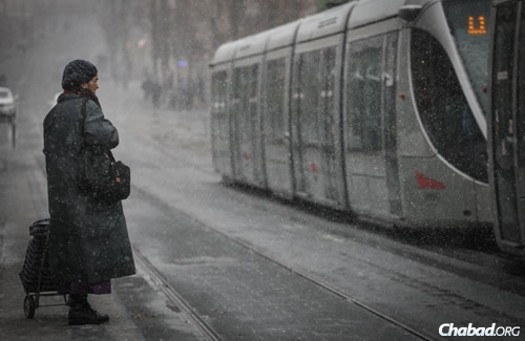 Woman waits for the Jerusalem light rail as snow begins to fall in the city. (Photo: Hadas Parush/Flash90)
Schoolchildren throughout Jerusalem awoke Wednesday morning to an announcement more common for North America than for the Jewish state: snow day, no school. A storm flowing from Eastern Europe is drubbing northern and central Israel with heavy winds and snow.
With memories still fresh of the December 2013 snowstorm, which shut down much of Jerusalem for nearly a week, government officials raced to stockpile salt in advance of the white stuff, as residents spent Tuesday gathering up necessary supplies. Many were buying enough groceries to last throughShabbat, with one supermarket official reportedly saying that his store had seen a 250 percent increase in sales as compared to a normal weekday.
"Last year, people who didn't have cars couldn't get out [to other parts of the city], and the little stores weren't well-stocked," recalls Rabbi Menachem Traxler, director of volunteering at Colel Chabad, the oldest continuously operating charitable organization in Israel. "Those who were able to drive but didn't have the proper tires would leave their houses and get stuck in the middle of the streets, so the plows couldn't get through."
Then there were the power outages, which meant no heat, lights, electricity or Internet. Pictures later were posted of Jerusalemites using fresh snow to melt for drinking water and other household needs.
This time round, the Jerusalem municipality insists that it will employ enough snowplows and other heavy equipment in effort to keep main roads clear. And it has advised people to stay off the roads for the duration of the storm, if at all possible.
'An Active Role in Helping'
And this time round, Chabad has a plan in place as well.
Rabbi Or Ziv, director of outreach at Chabad of Katamon & Gonen, called on his fellow Jerusalem-based Chabad emissaries to be at the ready. Ziv suggested that they find people in their neighborhoods who would be willing to help out with shoveling walkways, picking up groceries and other relatively minor, but important tasks.
"There is a limit to how much local and national authorities can prepare for a storm," says Rabbi Yisroel Goldberg, director of Chabad of Rechavia. "So theshluchim got together and divided up the city into five areas. Each group is preparing to have at least one Jeep on hand that can go around and help with basic needs while the city is shut down."
That shutdown began on Wednesday and includes major highways throughout the region.
Among those expressing support for Chabad of Jerusalem's efforts is the city's mayor, Nir Barkat, who has been asking residents to keep an eye out for one another.
Having the mayor's backing, says Goldberg, is a "big compliment. He realizes we can play an active role in helping the city."
Also prepping for the storm is Colel Chabad, which provides assistance to families in need. While the organization's soup kitchens are expected to be up and running as usual, food-delivery schedules are being modified.
According to Traxler, volunteers normally distribute food packages to 400 elderly residents three times a week. The weather forecast, however, won't allow for that.
Instead, deliveries for those seniors were set for early Wednesday morning and would include enough food to last through the weekend, including items for Shabbat.
He noted that local police officials have given Colel Chabad a special permit that will allow their drivers to ride around and "deliver food as needed." (They will be using four Jeeps specially equipped for the weather.)
Colel Chabad's Safed branch is also making sure that the families it services year-round in northern Israel are ready for the wintry weather. Government officials there closed roads to the city Tuesday night.
"We made sure that each family has heat, blankets and more," said Traxler, adding that the Safed branch has set up a hotline for families that need help and will have two Jeeps available in case someone needs supplies, or has an emergency and requires assistance.
While there's plenty for the grown-ups to do before a storm, the younger set has their eyes on the big picture as well—being home all day and playing outside in the snow.
"The kids are excited," exclaims Traxler, a father of seven, before adding, "I'm originally from Houston, so I'm just as excited as they are."