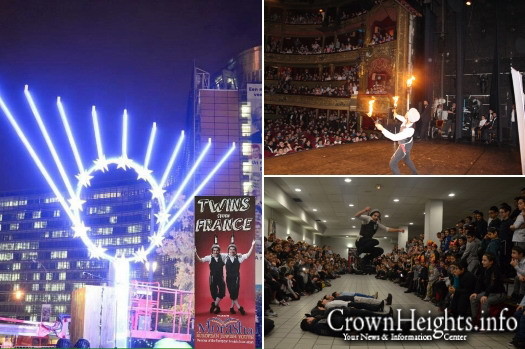 More than ten thousand Jewish children from throughout Europe attended a very special Chanukah program produced by the Morasha program, which is run in Brussels and provides programs for the children of shluchim throughout Europe.
For Chanukah, Morasha arranged a round of performances with the French Twins in Germany, France, Britain, Belgium, Switzerland, and Denmark.
The program included acrobatics, juggling, and funny sketches. Thanks to Morasha, the performances were given for reduced rates.
The twins appeared at public lightings, schools, and Chabad Houses.
Afterwards, the shluchim thanked Morasha for the opportunity to arrange such successful children's events.
"We would really like to thank the Twins for their impressive round of performances," the leaders of Morasha reported. The performances were arranged with the generous assistance of the EJA.