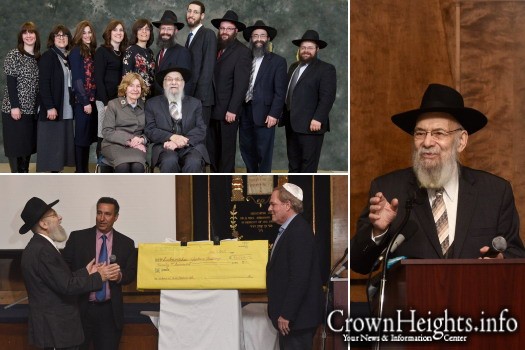 "He has made a difference in my life, in my father's life and he knows more about my grandfather than I do.  I enjoy the stories that he tells me about my grandparents and how they lived their lives."  These words come from an admirer of Rabbi Dovid Edelman at an event celebrating his 90th birthday.
Admirers and close friends gathered to honor Rabbi Edelman and his dedication to the community of Western Massachusetts and LYA (Lubavitcher Yeshiva Academy) for over 64 years.  The gala event, organized by Ron Eckman and Oscar Plotkin, focused on the selflessness of Rabbi Edelman and his ability to see the good in everyone, no matter the situation.
Rabbi Edelman has touched the lives of many, many people through his sincerity and ability to relate to people. He has dedicated his life to promote Judaism and nurture the Jewish soul. In the words of Diane Troderman, "you can always count on Rabbi Edelman to be there for the sake of a mitzvah; whether it is time to shake the Lulav and Etrog on Sukkot or to share hand-baked Shmurah Matza for Passover, he is there."
People spoke warmly about their family ties to the Edelman family and how Rabbi Edelman's visits and phone calls continue to inspire.
"Rabbi Edelman still calls me every Friday to tell me about the weekly Torah portion", said Ron Eckman, "and then when I go to services on Shabbat morning, I already know what is being read from the Torah in synagogue. It means so much to me that he cares enough about me to make that weekly phone call."  Eckman commented that he has known the rabbi since he was a preschooler at LYA and that he continues to be a guiding influence in his life.
Oscar Plotkin shared with the guests, that although he and several other people no longer live in Western Massachusetts, their roots are here and their roots go back to Rabbi Edelman and LYA. Plotkin also talked about the rabbi's weekly phone calls and how much he and his family are influenced by Rabbi Edelman even to this day, many years after he moved away.
Ron Eckman and Oscar Plotkin, together with LYA staff, organized this event and solicited 18 donors to each give the school $5,000 in honor of Rabbi Edelman's 90th birthday.  Ron and Oscar presented Rabbi Edelman with a model "check" to LYA for $90,000.
Rabbi Edelman was overwhelmed by the presentation and when he spoke to the assembled guests, he thanked the donors for the incredible birthday gift and said that it was fitting to have the celebration at LYA since "this has been your school since the start, you[r generosity] built it."
LYA students also prepared a gift in honor of Rabbi Dovid Edelman's special birthday. They wanted a present that expressed their gratitude to Rabbi Edelman for being a role model, leader and a chosid of the Rebbe.
The students and staff came up with the idea of performing 90 good acts of kindness and mitzvos in honor of Rabbi Edelman's birthday. A book was published with pictures of each student performing their mitzvah. A special poem was written by 7th grader, Chana Wolvovsky that was printed in the book. Students of LYA from toddlers through eighth grade presented Rabbi Dovid Edelman with this special photo book.
Rabbi Dovid Edelman and his wife, Leah, moved to Springfield in January 1950 to guide the fledgling day school now known as LYA.  From its humble beginnings on the first floor of a two-family house on Belmont Avenue in Springfield to its present location on Converse St. in Longmeadow, Rabbi Edelman has been a constant leader and spiritual at the helm of LYA.  We wish him and his wife many more years of good health and happiness and we look forward to his continued guidance.