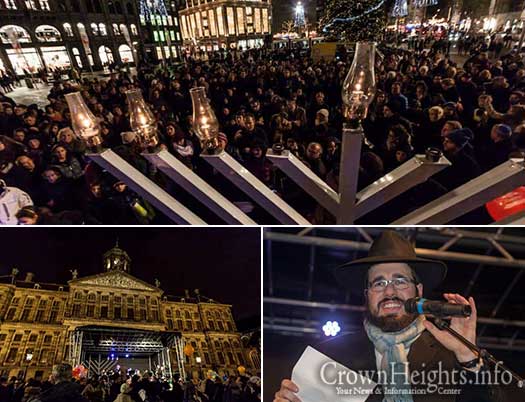 Hundreds participated in the annual 'Light up AmsterDAM' Menorah lighting last week, and that was thanks to a letter sent in to the Ohel by the event organizer Rabbi Menachem Evers. Just before the event began the strong rain and winds ceased and calmed down.
Thursday afternoon in Amsterdam it was poring rain and very strong winds. Organizer of the annual Light up AmsterDAM Shliach Menachem Evers sent a letter to the ohel, and a little before the event started the rain stopped and the winds calmed down.
It was a beautiful scene to see hundreds being able to show their Jewish pride, sing and dance together, and enjoy the warm Chanukah atmosphere in the heart of Amsterdam, on the world famous Dam Square in front of the Royal Palace.
Israeli ambassador Chaim Divon, spoke very warmly and said that there are many other events that evening he chose to be at this lighting because this is the center and heart of Amsterdam and of Holland and it's very important and a big honor to celebrate it united together with hundreds of people. He was also given the honor to light the menorah. And danced for a long time with the Shluchim, temimim and crowd.
Rabbi Evers related that although in the world, and particularly in Europe, it is sometimes hard to feel safe, we can learn from the Maccabeem, who trusted in G-d and were able to overcome a stronger enemy.
Many said that this beautiful event was very special and emotional, the fact that they can publicly be proud of their Jewish heritage gives them courage and strength.
Also attending the event were a group of Temimim from Yeshive Brunoy, who came with a Mitzva tank and added a lot to the joy.
Pictures by Dirk Spits
Chanukah Dam Square 5775, 2014: