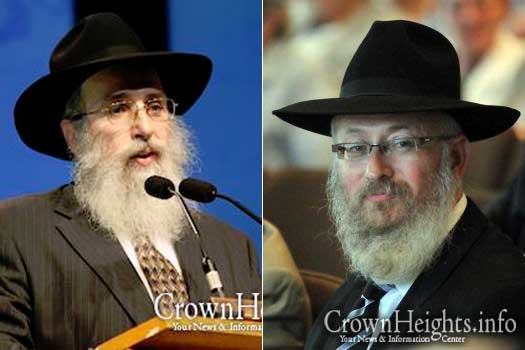 Rabbi Nechemia Vogel (L) and Rabbi Chaim Block.
Two Shluchim Appointed to Board of Merkos
At a gathering of the full board of Merkos L'Inyonei Chinuch, Rabbi Nechemia Vogel, Shliach to Rochester, New York, and Rabbi Chaim Block, Shliach to San Antonio, Texas, were appointed to serve on the board.
At their annual meeting following the International Kinus Hashluchim, the board of 11 Shluchim voted on appointing two new members. They fill in the two seats previously held by Rabbi Daniel Moscowitz, OBM, and Rabbi Nachman Sudak, OBM, who both passed away this past year.
The last Shluchim to be appointed to the board were Rabbi Mendy Herson and Rabbi Yitzchok Wolf.
Board members attending the meeting included: Rabbi Yehuda Krinsky, Rabbi Moshe Kotlarsky, Rabbi Zalman Grossbaum, Rabbi Shmuel Kaplan, Rabbi Yisroel Deren, Rabbi Moshe Feller, Rabbi Mendy Herson, Rabbi Zev Katz, Rabbi Sholom Ber Levitin, Rabbi Avrohom Shemtov and Rabbi Yitzchok Wolf.