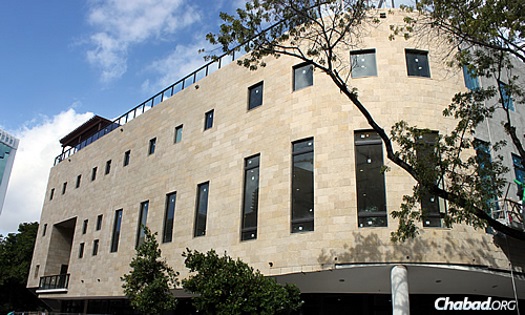 The new Rok Family Shul, Chabad Downtown Jewish Center in Miami offers 20,000 more square feet of space than its former site.
Miami Jewish Life Is Booming
The Miami area is hotter than ever, according to a new study that found that participation in Chabad-Lubavitch programs is simply booming there.
More than one-in-four Jewish households in Miami-Dade County—26 percent—have engaged with Chabad programming during the past year, including 42 percent of Jewish households with children at home, according to "The 2014 Greater Miami Jewish Federation Population Study: A Portrait of the Miami Jewish Community."
"When I saw that number, my jaw dropped," said Ira Sheskin, director of the Jewish Demography Project of the Sue and Leonard Miller Center for Contemporary Judaic Studies at the University of Miami, and professor and chair of geography at the same institution. "I was thinking maybe 10 or 15 percent."
Sheskin, who has completed 42 major Jewish-community studies for Jewish Federations throughout the country, offered some theories on the reason for the big Chabad numbers. "I think a good part of it is it's welcoming and it's open to everyone," he said. Additionally, "Chabad is viewed as a very authentic Jewish experience, and they don't charge any dues. That's always helpful."
This is the first time the once-a-decade report detailed Chabad engagement, according to Michelle Labgold, chief planning officer of the Greater Miami Jewish Federation. The question was broadly worded and covered a range of activities, from attending services and classes at Chabad centers to to joining in a range of holiday programming.
"We're glad we asked the question," said Labgold. "What's striking is the evident reach of Chabad in reaching a part of our population."
Chabad itself has grown greatly over the years in the Miami-Dade area, Sheskin said, from five centers in 1994 to 23 centers this year.
The survey found that Chabad attracted relatively young households. Nearly half of all Jewish households led by people under age 35—some 47 percent—visited a Chabad center or participated in a Chabad-related activity within the past year. And 36 percent of the homes in the 35-to-49-year-old demographic went to Chabad as well.
Among the other findings:
25 percent of the households who went to a Chabad activity identified themselves as Orthodox, while the vast majority of attendees—the other 75 percent—identified themselves as Conservative (32 percent), Reconstructionist (1 percent), Reform (19 percent) or "just Jewish" (23).
Only half of the households that attended Chabad are synagogue members, and merely 1 in 5 belongs to a Jewish Community Center.
Chabad also proved a hit with households with children: 42 percent of the people in those homes attended Chabad.
'The Growth Is Unbelievable Here'
The numbers in the study didn't come as a surprise to Chabad rabbis in the Miami area.
Rabbi Chaim and Deenie Lipskar, co-directors of the Shul of Downtown, helped lead the grand opening in February of a new facility in Miami proper—the Rok Family Shul, Chabad Downtown Jewish Center. It saw 1,200 people come to the center on its opening weekend. Also working at the new center are Rabbi Eliand Rochie Lipskar.
The downtown shul was founded by The Shul of Bal Harbour under the leadership of Rabbi Sholom Lipskar, who started it nearly 30 years ago as a place of worship and respite for businesspeople.
"The [study] numbers definitely validate our hard work," said Rabbi Chaim Lipskar. "We built our center in downtown Miami with the belief that there would be thousands of young people who would live and work here."
Young people, he said, are interested in exploring their spirituality, and are "not set in their ways."
Mosaic in Miami
Greater Miami is an area ripe for study. South Florida as a whole boasts the third-largest Jewish population in the United States, behind New York and Los Angeles, said Sheskin, who was a member of the committee that completed both the 1990 and 2000-01 National Jewish Population Surveys.
And it's not just the elderly who call the area home anymore. Young families have been moving into the region for the weather, cost of living, available housing, and the boom in Jewish life and activities.
Apart from providing a still-rare scientific look at Chabad demographic engagement, the Miami Federation study looked at a range of issues. Among the other highlights:
There are 55,700 Jewish households in Miami-Dade, a 3 percent increase from a decade ago.
After what the report called decades of decline, the total number of Jews in Miami increased by 9 percent over the past decade and now stands at 123,200.
More than eight of 10 Jewish children have participated in some type of formal Jewish education.
Jews in the area are highly educated, with 71 percent of adults 25 or older holding at least a four-year college degree. That compares to 28 percent of the overall U.S. population.
The fastest-growing ethnic group within the community is Hispanic Jews.
One-third of adult Jews in Miami were born in another country.