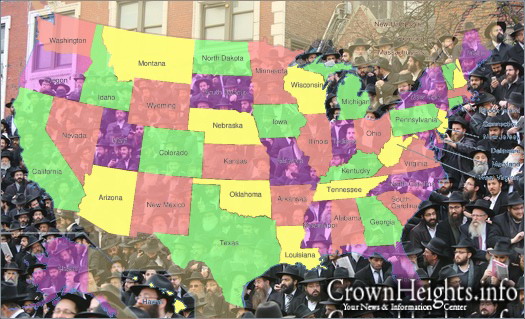 Only one U.S. state remains without a permanent Chabad presence. Finding it is like a 'Where's Waldo?' for Jews, says Haaretz:
Some 4,200 Chabad rabbis from more than 80 countries are gathering this weekend in New York for the annual conference of Chabad-Lubavitch emissaries.
In the year since they all last got together to attend workshops, listen to keynote lectures from the likes of former Sen. Joseph Lieberman and pose for their "class picture" — a "Where's Waldo of rabbis," according to a Chabad release — the Jewish outreach organization they represent has put down roots in five new countries and one new state, Mississippi. That brings the number of American states with a permanent Chabad presence to 49.
Which had JTA staffers wondering: Which state is the holdout?
West Virginia? Chabad opened in Morgantown back in 2007.
Idaho? They've been in Boise for more than a decade.
Montana? Wyoming? Alaska? None of the above.
North Dakota? Well, now you're getting warmer (or, really, colder).
It's South Dakota.
So why is the home of Mount Rushmore the sole Chabad-less state in America? Simply put: math. One of the least populous states in the nation — some 844,000 people live there — South Dakota has just 345 Jews, according to the 2013 edition of the American Jewish Yearbook.
Time was, there were more Jews in the state — somewhere in the neighborhood of 1,750 at the turn of the 20th century. Many of them had come to make their fortunes amid the Black Hills Gold Rush of the 1870s. And those who stayed on built the kinds of Jewish institutions that made the Great Plains feel like home.