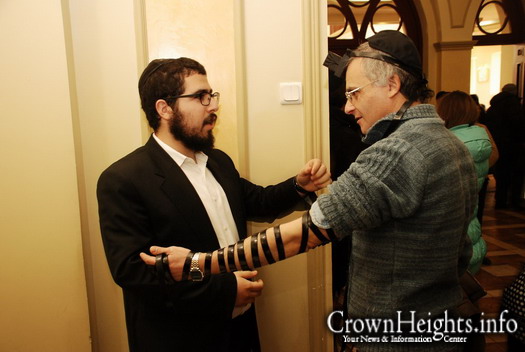 24 years ago, in the summer of 1990, 8-month-old Mendel joined his parents, Rabbi Moishe and Miriam Moskovitz, as one of the first families of Shluchim to the Soviet Union as communism began to fall. They moved to Kharkov, which was then part of the USSR, as Shluchim of the Rebbe to a Jewish community that had just gotten back its Shul from the government.
Now, just as the annual Kinus Hashluchim gets underway, Rabbi Mendel Moskovitz will be returning to his hometown of Kharkov, now in Ukraine, with his wife Chani (nee Wolff) and 3-month-old baby daughter Chaya Mushka.
The young Moskovitz family will be joining Kharkov's team of Shluchim during a very difficult time for Jews in Ukraine. With civil war and bombings only a few hours away, and an economic collapse throughout the country, their arrival will bring a much needed boost to the many institutions of the Kharkov Jewish Community.
CrownHeights.info wishes the young couple much success on their new Shlichus.