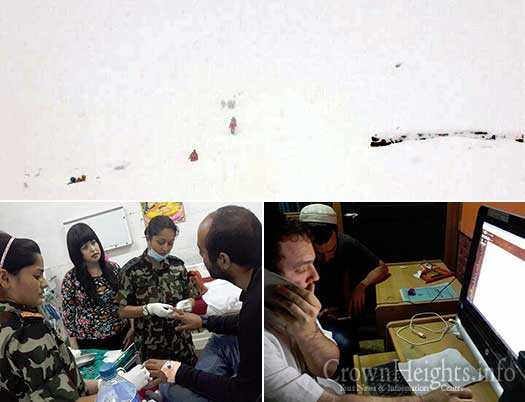 Photos: Chabad of Nepal's facebook page.
At least 39 people were killed after a blizzard triggered avalanches on a mountain hiking trail in Nepal. Among the victims are three Israelis who were killed and another who is still missing. Search and rescue workers are still searching for an additional 20 missing hikers.
Severe weather and blizzards, triggered by the tail end of Cyclone Hudhud, surprised backpackers hiking in the Annapurna region in Nepal. Over 200 people were initially feared missing and many were later rescued, while a total of 39 people were killed.
The three Israeli backpackers killed in the storm were identified as Nadav Shoham of Mitzpe Hoshaya; Agam Luria, 23, of Kibbutz Yifat; and Tamar Ariel, 25, of Masuot Yitzchak.
22 are still missing and one of those is an Israeli backpacker identified as Michal Cherkesky, 36.
The storm occurred on October 16th and an Israeli search and rescue team immediately set off to Nepal and has been actively involved in rescuing stranded hikers.
Many worried parents and friends reached out to Shliach Rabbi Chezky Lifshitz, director of Chabad of Kathmandu, who together with a group of volunteers set up an emergency command center and were helping locate lost relatives and friends. A delegation of doctors and psychologists from the IDF's medical corps set up in the Chabad House and tended to people's physical and emotional needs.
"The people are telling horrific tales of attempts to save one another with great bravery. The would-be rescuers were to be the survivors. People exhibited comradeship, of which they paid with their lives. People simply lost their strength and died on their way," said Rabbi Lifshitz in an interview.