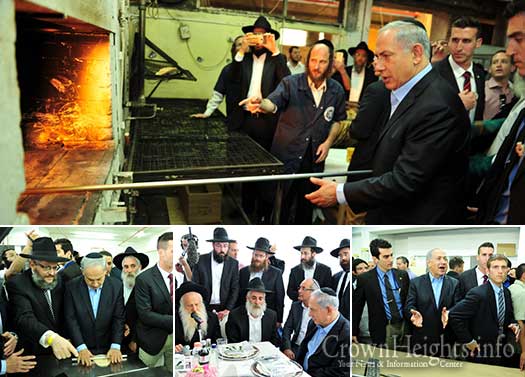 Photos by Meir Alfasi
PM Netanyahu Visits Kfar Chabad Matzah Bakery
Israeli Prime Minister Benjamin Netanyahu was the guest of honor at the Kfar Chabad Matzah Bakery this morning, where he visited for a pre-Pesach tour.
The Prime Minister was greeted by the head of Aguch in Israel Rabbi Y. Y. Aharonov, the Rov of Kfar Chabad Rabbi Mordechai Shmuel Ashkenazi and by head of the Vaad of Kfar Chabad Rabbi Binyomin Lifshitz, among others.
The Prime Minister expressed great admiration for the efficiency and meticulousness of the Matzah Bakery, from which Matzos are distributed to all parts of the world, including the Prime Minister's own home.
He ended his visit with a blessing for a happy and kosher Pesach holiday to all members of the community and the Jewish people as a whole.