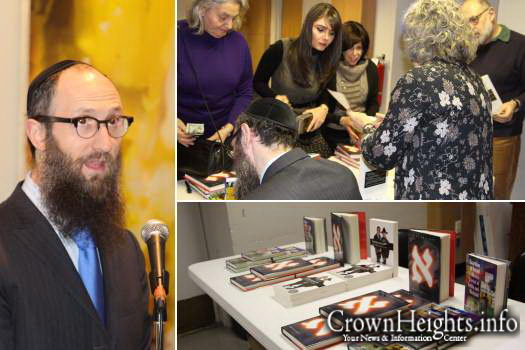 Shliach Inspires at Brooklyn Heights Library
Brooklyn Heights Jewish residents gathered on Tuesday, February 18, at Brooklyn Heights Library for an insightful and uplifting evening to remember.
The library's Interim Acting Supervisor, Uldis Skrodelis, opened the evening by welcoming guest speaker, Rabbi Aaron L. Raskin, Spiritual Leader of Congregation B'nai Avraham in Brooklyn Heights, Shliach of Downtown Brooklyn and author of 'Guardians of Israel: Miracle Stories of Tefillin and Mezuzah.'
He was followed by Deborah Hallen, the president of the Brooklyn Heights Library, who introduced world renowned art critic and curator Sarah Schmerler. Sarah, an editor of Rabbi Raskin's most recent book and an expert in her field of work, has giving numerous guest lectures at schools such as Pratt Institute, CUNY, New York School of Interior Design and most recently at Yale. She spoke about her experience observing the writing of a mezuzah. As an artist, Sarah expressed her admiration for the sofer who took such great pains with every stroke of his quill. She revealed that she was blown away by the sensitivity of the task.
Rabbi Raskin then took to the podium. He recounted a few inspiring stories recorded in his book, revealing the power of the mezuzah and how it has changed the lives of individuals particularly with employment and bearing children. He demonstrated with numerous examples that upgrading one's mezuzah can bring additional blessings and wealth. Rabbi Raskin told the story of a congregant who was experiencing financial difficulties. Upon hearing his woes, the Rabbi suggested that he have his mezuzahs checked. A few weeks later, the Rabbi asked him how his business was going. He replied, "Rabbi, the truth is that everything went downhill after I checked my mezuzahs." Rabbi Raskin, believing this was impossible, responded that he must have affixed the mezuzah incorrectly. The man was adamant that he was fluent in Hebrew and he had definitely hung the mezuzahs properly. After much discussion, Rabbi Raskin decided to investigate for himself. To the man's disbelief, the mezuzah on the door to his young daughter's room had actually been hung upside down. After remedying the situation, the man's business improved significantly.
After his address, those present were able to have their books signed by Rabbi Raskin. Rabbi Raskin's other books were also on sale, namely Letters of Light, which has been translated into Portuguese and Spanish; as well as The Rabbi & the CEO, which has recently be translated into German.
Rabbi Raskin apologized that his book By Divine Design was not available, as it is currently out of print after an overwhelming response upon its publication.
To order any of Rabbi Raskin's books please visit www.heightschabad.com/books.