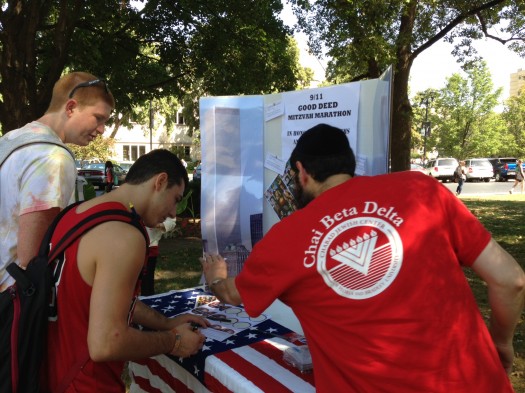 Students Honor 9/11 Victims with Good Deeds
Chabad at Bradley University in Peoria, Illinois commemorated the 12th anniversary of 9/11 Wednesday by encouraging students, staff and other passersby to do something good for humanity.
Peoria Public Radio's Denise Molina reports:
Rabbi Eli Langsam stood in front a mini-replica of the twin towers asking passing students to do a good deed in memory of the victims of 9/11.
Participants were encouraged to write down a good deed and attach it to the replica which was also adorned with pictures of victims of the terrorist attacks. Langsam is the Director of the Jewish Bradley Chabad Student Center.
"We all know that 9/11 was a day of great atrocity to the world and great darkness had come over the citizens of the United States of America as well as everyone around the world. We always know that the Jewish way is to always add in goodness and kindness and to bring light into this world by doing good deeds. So that's the message we want to bring today is let's lighten up today's day with goodness and kindness."
Langsam also handed participants stickers saying, "I did a Mitzvah today," acknowledging their good deeds. The student group also had a moment of silence in memory of the 9/11 victims.