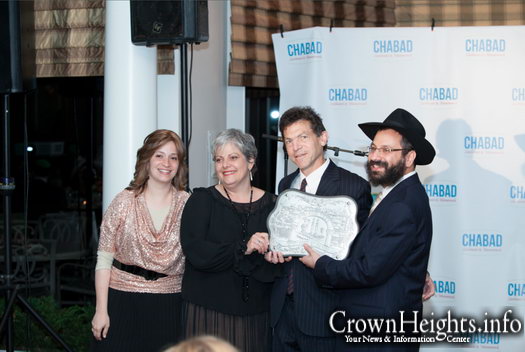 Guests of honor Shira and David Weinstein with Rabbi Mendel and Chana Silberstein.
On a recent evening at the Hampshire Country Club overlooking the Long Island Sound in Mamaroneck, NY, more than 250 guests turned out for Chabad of Larchmont and Mamaroneck's Inaugural Dinner. The festive event celebrated some six years since Rabbi Mendel and Chana Silberstein arrived in the area to share the joy and teachings of the Lubavitcher Rebbe with local residents.
The gala, which included a lively cocktail hour and silent auction, followed by a sit-down dinner and dancing, marked Chabad's years of community outreach, including the Teens for the Community, also known as the TFC, program, and Jewish education for children and adults.
The event also marked the forging of new and special friendships since the couple arrived in the area presenting Judaism, as Rabbi Silberstein describes it, "in a fun, warm and welcoming environment."
"We came here to bring the beauty, love, the warmth and depth of Torah and Mitzvahs to every single Jew," the rabbi said.
Among those celebrating the anniversary were several guests of honor who have unsparingly given of their time to make this Chabad, one of thousands worldwide, a success. Adam and Melanie Herz of Larchmont, who were honored with the Young Couple Leadership Award, recalled the Friday they moved into their home two years ago, when Rabbi Silberstein, along with his oldest son Yisrael, then 3, arrived at their doorstep to welcome them with a bottle of wine, a freshly baked challah and other items they needed for their table – and their spirit – to welcome in Shabbos at sundown.
"It connected us right away," recalled Adam.
Also among the guests of honor were Shira and David Weinstein, who were introduced by their grown children, Hannah and Gracie. David spoke about the warmth and Shabbos service at the shul in Mamaroneck and encouraged others to join the Rabbi on Saturday mornings "so they don't miss out on anything, including the special cholent served at the weekly Kiddush luncheons."
U.S. Congressman Eliot Engel brought greetings and more from the Oval Office. He presented the President's Volunteer Service Award – along with certificates and lapel pins – to a group of 11 high school graduates who each donated 200 to 400 hours to the Teens for the Community program. Altogether, there are about 40 youngsters involved in the TFC program, an effort which, among other things, involves preparing lunches for those in need and visiting residents in homes for the aged.
Daniel and Michelle Pfeffer, the owners of the Hampshire Country Club, received a special acknowledgement for their generosity to Chabad, including making the gala possible.