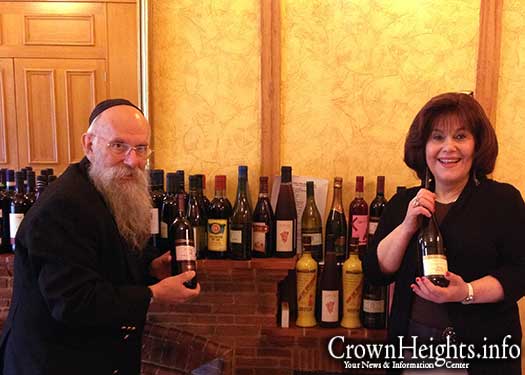 Another First in Glasgow – A Kosher Wine Shop
Seven years ago, Glasgow Shluchim Rabbi Chaim and Sora Jacobs recognized the lack of a proper Kosher eatery, so they opened the L'Chaim Kosher Restaurant – a first such establishment in their area. Now they opened a first all kosher wine store after dealing with shortages in local supermarkets.
"Indeed any Kosher Eatery, Kosher Deli, Kosher Bakery and all Kosher Food facilities make up the very fabric of a Jewish Community infrastructure. In larger cities this may be purely a business venture. In small communities such as Glasgow this is a vital community service which must to be supported by all in order for these ventures to survive and thrive" said Rabbi Jacobs.
Seeing that over the past three years local supermarkets have stopped selling or cut their available selection of kosher wines to a minimum, and on many occasions local Jewish residents have been unable to buy wine for kiddush, Lubavitch have opened the L'Chaim's Kosher Wine Shop located at the Lubavitch Centre at the Glen Giffnock, and they now have a full 'Off Sales Alcohol License'.
L'Chaim's will be stocking a wide range of kosher wines and liquors and will be open whenever the L'Chaim's Restaurant or Sora's Cafe are open and any other time by appointment with no minimum order will be required.
People will be able to call in for one bottle of Kiddush or Dinner wine. A delivery service will also be available at a nominal fee. It is hoped that this Lubavitch venture will bring increased kashrus observance in the Glasgow community.
Being the only Shomer Shabbos Glatt Kosher Food establishment in Glasgow using Only Kedassia and MH Shechita L'Chaim's are expecting many people of the kehilla using their facilities over the summer and throughout the year.