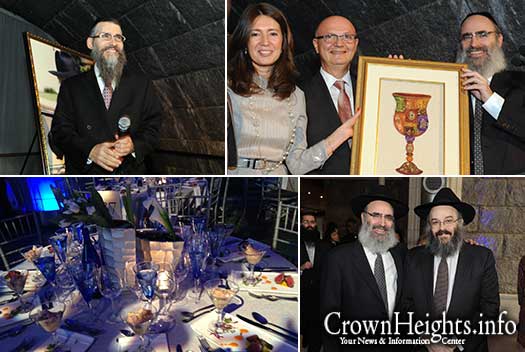 Their Work? To 'Spark the Spark' of Jewish Pride on the Upper East Side
Rubi came across the YouTube videos unintentionally. They wereTanya lessons — from the central text written by the founder of Chabad-Lubavitch, Rabbi Schneur Zalman of Liadi — given by Rabbi Ben Tzion Krasnianski, co-director of Chabad of the Upper East Side. And they helped start her on the road to recovery from addiction.
Six months later, his talks motivated her to move to Manhattan to take part in the actual classes. Rubi has been in recovery for a year and three months now. "It was like the sea split," she said. "Everything moved out of my way."
At an evening awards banquet on March 10, she joined hundreds of others whose lives have been touched by Krasnianski and his wife Chanie over the two decades they've established themselves in New York's well-heeled Upper East Side.
Since their first High Holiday services in 1992, the couple has held seders and Friday-night dinners, led Israel trips and started a preschool, built women's groups and opened the Upper East Side's only modern mikvah, among other accomplishments. They've also expanded to include the Chabad Israel Center, under the leadership of Rabbi Uriel and Shevy Vigler, and have a young professionals division led by Rabbi Yosef and Devorah Wilhelm.
Some at the Sunday-night dinner, such as event chairs Peter Schwalbe and Jody Soltanoff, have watched it all unfold, and more importantly, have been a central part of its evolution. "We started out in a little apartment on 84th Street some 20 years ago, then we graduated to a little brownstone where we rented a couple of floors," recalled Schwalbe. "Twelve years ago, we bought an old stable on 77th street and got permission to knock it down – we built the shul, we built a beautiful mikvah, we built an apartment for the rabbi and classrooms – we're busy from 6:30 a.m. with the kollel until 11 at night."
It makes him feel "tremendously warm and very good to be totally involved with Chabad," said Schwalbe.
Soltanoff and Schwalbe both feel that Chabad is the "savior of yiddishkeit," he said, noting he appreciates the personal sacrifices of the emissaries to bring Jews back to Judaism. "And they do this phenomenally well all over the world."
The event, which started with an hors d'oeuvre spread in the foyer of Gustavino's landmark building, opened into a dinner on its balcony, up a spiral candlelit staircase. Entertainment included Chassidic singer Avraham Fried, in addition to a live band and a raffle, with prizes including an iPod, a New York City getaway, jewelry, and grand prizes such as $10,000, a lease for a Lexus and a trip to Israel.
Honorees for the evening were "Parents of the Year" Alexander and Diana Tsigutkin. Albert and Ariel Sebag and Marc and Esther Sholes received Community Service Awards.
Marc Sholes — with Hanna, 13; Avery, 10; and Ezra, 6, in tow — recalled how his children went to Chabad's camp and preschool, with one of them volunteering with the Friendship Circle, a special-needs buddy program. He and his wife have been on trips to Prague and Israel with Chabad as well.
The Krasnianskis "rekindled my Judaism," he said. "How they spoke about Judaism touched my soul; it sparked that spark in me personally. I found that I left expanded."
He said he brought his children so they could experience the spirit of those gathered at the event. Sholes also brought friends and supporters of his own, and said he hopes that they, too, come away inspired.
"I hope they dip a toe, take a class, introduce themselves," he said. "A lot of people I invited aren't involved. I want them to see what they're missing."
Michele Harris, who has lived on the Upper East Side since 1986, remembers when the rabbi held his first Tanya class at her house. She has counted on the Krasnianskis for help getting a kosher mezuzah, and it was her interactions with them that led her to revisit her religious upbringing.
"I went back to a lot of things," she said, talking about how she herself feels psychologically changed because of the Krasnianski's. "Many important answers came to me through them, through their teachings."
She said it was her long-standing relationship with them that brought her to Gustavino's, and even though it was a budget consideration, it was well worth it. "I could understand why people are skeptical in life," she said. "This is one place I'm not, so where else would I be?"
Chanie Krasnianski was swarmed with well-wishers throughout the night. As she looked out over the room, she said she hoped the evening, and more broadly, their work, stoked a fire inside attendees that would allow them to reach others in their lives. Moreover, she said, she hopes people went away with a renewed understanding and Jewish pride, "that yiddishkeit is something alive and meaningful."