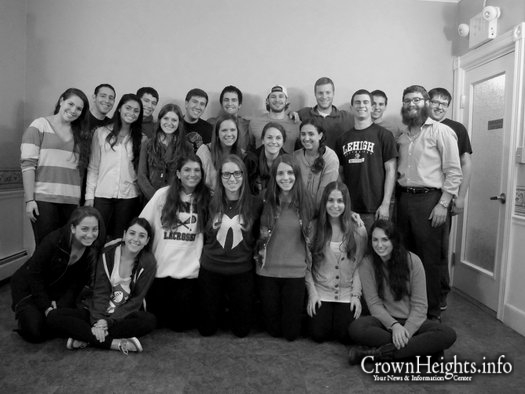 For many Jewish college students, Chabad organizations on campuses around the world provide a home away from home. There are Chabad centers on more than 140 campuses worldwide, and Lehigh's campus is no exception.
Alumni, faculty and students suggested to the Chabad of Lehigh Valley that there was a need for another Jewish outlet to the Lehigh community. Rabbi Zalman Greenberg and his wife, Dit Greenberg, quickly stepped up to the challenge. Chabad at Lehigh was established in 2008 right in the Greenbergs' home on Evans Street. The organization had a slow start with only two students attending their first event.
"In the Lehigh community, after students finish their studies, people go into their own niche and do their own thing," Greenberg said. "We expected a very slow beginning in regards to numbers."
Lehigh's Chabad, however, quickly grew in numbers. Programs like Friday night Shabbat dinners, celebrations for the high holidays and lectures regarding Jewish faith, now average from 70-80 students per event.
With student participation in the events rising quickly, Chabad quickly became an organization sustained by the students.
"Now it is self-sufficient," Greenberg said. "That's how programs are really created. From the students up."
A more recent Chabad program that was initiated by the students was Sinai Scholars, an eight-week course regarding the 10 commandments and their relevance to daily life.
As part of Chabad at Lehigh, students have the opportunity to take a Birthright trip to Israel for 10 days. During this trip last year, the students participated in an event called "stump the rabbi." Students were given the opportunity to ask the rabbi difficult questions regarding Judaism and the Torah. Greenberg explained how the students really enjoyed the idea of discussing their faith in a group setting.
Prior to Sinai Scholars, most education regarding Jewish philosophy or history in Lehigh's Chabad was done through one-on-one learning. After participating in this event, however, a few students really pushed the idea of group discussion and learning.
"A lot of our events before Sinai Scholars were traditional or social events, and as far as studying the Torah there was more one-on-one learning," Greenberg said.
With the extra push from the students, Greenberg began applying to have the Sinai Scholars program offered at Lehigh. Greenberg explained how Sinai Scholars is a very sought after program, and that it was difficult at first to get the program offered.
The program is now in its second semester, with 27 students participating this semester. The class meets every Tuesday from 6:30 to 8:30 p.m. in Maginnes 260.
"It's a conversation-based class where students are encouraged to get involved and see how Judaism is relevant in the 21st century," Greenberg said.
According to the Sinai Scholars website, "Sinai Scholars invites students to engage in an open community of study and self-discovery that will help them to become passionate, informed Jewish leaders on campus and in their respective communities."
The basic requirements to graduate the course are for students to attend the class and write a five-page paper regarding their experience and what they learned from participating in the class. If a student completes these requirements, a small ceremony is held to honor their completion, and in most cases, the students are offered a $350 stipend.
Other than these few requirements, the activities involved in the Sinai Scholars program are determined by the different Chabad organizations on different campuses. For example, last semester, Lehigh's Sinai Scholars went to Wegmans, a local supermarket, and participated in a "Kosher Race." The students split into teams and walked around Wegmans in search of different kosher certifications.
"This class was not just another textbook course where you simply take in information from someone else, but rather it pushes you to challenge yourself by questioning what you already believe about morality and life in general," said Michael Lefkoe, '15, who participated in the course last semester. "I looked forward to it every week because it was one of the few opportunities I had to engage myself in something far more profound than what I am used to learning in my daily coursework."
"The course allowed me to take a break from my studies and really refresh my knowledge of Judaism, as well as gain additional insight," said Aly Robinson, '13, who also participated in the course last semester.
With Lehigh's Chabad offering programs such as Sinai Scholars, participation in Chabad events is growing rapidly. To accommodate the rise in numbers, Lehigh's Chabad purchased a house at 306 Wyandotte St. that they will be moving to in a few months.
This new house, funded by gifts from alumni and other supporters, is 10,000 square feet, has room for up to 200 students to attend Shabbat dinners, a synagogue for services, rooms for residence, and guest rooms for parents and other visitors. Greenberg explained that with this new house, he hopes that Lehigh's Chabad will achieve a more "home away from home" feel.
"What we try to create is when a student comes in they don't feel like they are walking into a Jewish organization, but a Jewish home, a family," Greenberg said.
"Being part of the Chabad community means more than just amazing home-cooked Shabbat dinners on Friday nights at Rabbi Z's house," Lefkoe said. "It means that we, as the Jews of Lehigh University, are able to identify with something much greater than ourselves, not necessarily in the same way as someone might identify with a fraternity or a sports team, but in the way that binds us together as one people."
Chabad will be hosting a Shabbat 180 Dinner, its largest Shabbat dinner of the year, March 1 at the Comfort Suites at 6 p.m.