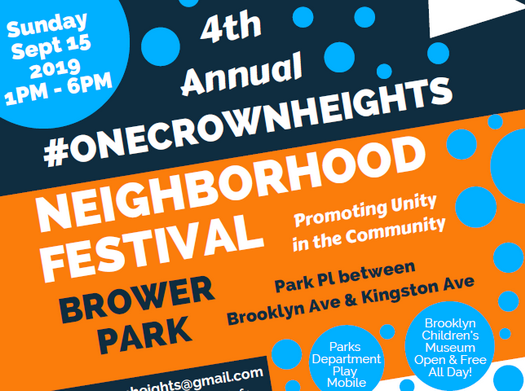 Sunday: #OneCrownHeights Festival in Brower Park
The Jewish Community Relations Council of New York (JCRC-NY), and a coalition of diverse community leaders in partnership with Brooklyn Children's Museum and Jewish Children's Museum, present the 4th annual #OneCrownHeights Neighborhood Festival, Sunday, September 15, 2019 at Brower Park, Park Place between Brooklyn and Kingston Avenues, from 1:00 p.m. to 6:00 p.m.
NYC Council Majority Leader Laurie A. Cumbo, Rabbi Eli Cohen, Executive Director of the Crown Heights Jewish Community Center, and Stephanie Wilchfort, President & CEO of Brooklyn Children's Museum are among the speakers at the event.
New to this year's festival is "Community Conversation: Neighbor to Neighbor – Can We Talk," which provides an open forum for local residents to be heard and to hear the views and stories of their neighbors. Three sessions are open at 2:15 p.m., 3:15 p.m. and 4:15 p.m., covering such topics as hate crimes, gun violence and youth bullying.
Uncle Moishy will  be performing at 2:15pm and 3:50pm.
This project is sponsored by the American Jewish Committee.
The event kicks off with Tropical Fete Steel Pan and stilt walkers, followed by live performances featuring Victory Music and Dance Program Marching Band, Uncle Moishy, WukkOut! Caribbean Dance Fitness, Double Dutch, a live DJ and much more. Other activities include FDNY Smoke House, a bouncy house, soccer tournaments, NYC Parks Play Mobile, the Colgate Bright Smiles Dental Van, arts and crafts, Senior Painting Project, resource vendors, and health screenings.
Brooklyn Children's Museum will be open and free for all visitors throughout the day. Errol Louis, political anchor of NY1's Inside City Hall, will emcee the afternoon's activities.