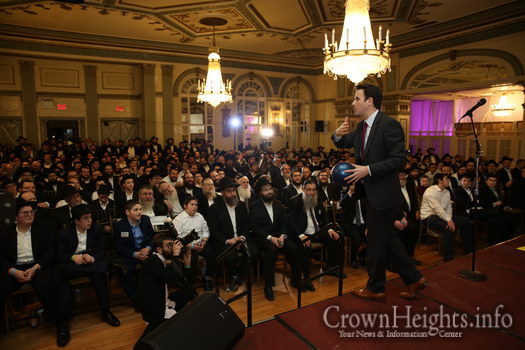 by Dovi Minkowicz
I have always supported KSCVK. Devorah is always there for our community and hundreds upon hundreds of families in our community and shluchim around the world have only been able to make Chasunos because of KSCVK. Last night was the men's event for the Chinese auction. I was a volunteer. The food was great! The ambiance was great! The entertainment was amazing! The crowd was a little smaller than last year. It seemed like less money came in than usual. A lot of the big spenders are our of town. I asked after they counted and the numbers are down.
KSCVK needs the Chinese auction to be a great success. Devorah's budget keeps increasing. The number of Yesomim r"l hasn't gone down this year. The number of families and couples who need KSCVK's help keeps increasing. They depend on us! The ladies night is the major fund raising part of the auction.
Think for a minute. Did KSCVK ever help you? A family member? A friend? Please show gratitude and appreciation. Come tonight and if you can spend generously. Do you have friends? Ask them to come or go on the website kscvk.org and buy a lot of tickets. If you don't know anyone who ever needed KSCVK, show your appreciation to Hashem that you were put on the giving end rather than the receiving end. Come, enjoy, spend and give generously!
For many years, the auction has continuously brought in more money. As the community has grown, the need for KSCVK's assistance keeps growing. Please be there for Devorah so KSCVK can be there for all of us!
Make this auction the most successful ever!
Dovi Minkowicz