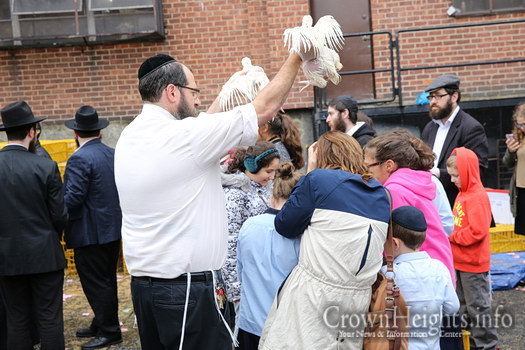 Kapparos is once again available to year-round residents of Crown Heights at a deeply discounted price, thanks to the involvement of two philanthropists with a history of supporting the Crown Heights community.
Kapparos will be available at Beis Rivka (corner of Montgomery & Nostrand) on Tuesday, September 26 from 2 – 9 pm. The deeply discounted price of $5 is thanks to the generosity of diamond mogul Morris Gad of Diamond International, who has supported kapparos in Crown Heights for over ten years. He is joined by local real estate developer, Rabbi Dovid Fischer, as co-sponsor.
"Mr. Gad and Rabbi Fischer have been very generous with our community," said Rabbi Shea Hecht, Chairman of NCFJE, long-time organizer of kapparos. "There are hundreds of households in Crown Heights that are counting every penny this time of year, and wouldn't be able to properly observe our minhag if not for them. We are so grateful to Mr. Gad and Rabbi Fisher for always the needs of our community in mind."
"I'd like to remind everyone to be mindful of the halachos of tzar baalei chaim, and not to give fuel to any arguments of any of those who have harassed us in recent years," said Rabbi Hecht. "If there are any protestors present, we ask that you just keep your distance. They're not worth responding to."
Rabbi JJ Hecht OBM, the Chairman of NCFJE, began reviving widespread observance of kapparos in the early 1970s. The Rebbe encouraged his efforts and would ask for details of the operation, including the number of birds sold, the expenses, shechita and who took part.