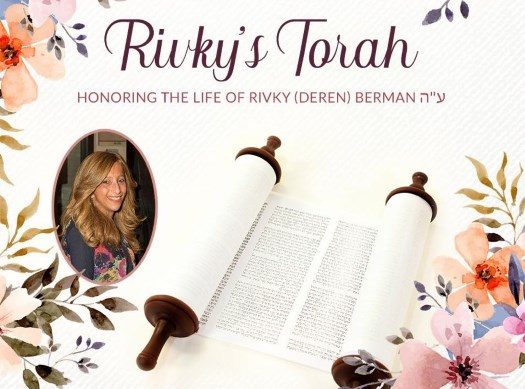 Just one year ago, Jews around the world were struck by the heartbreaking news of the passing of Rivky (nee Deren) Berman, OBM. Her inspiring and courageous video messages of faith in Hashem, and on facing life's challenges and overcoming them, were viewed by hundreds of thousands of people before and after her life with us in this world.
The premier Jewish website of Chabad.org created a page – www.chabad.org/rivkystorah collecting the tributes and messages about, and from, this young Shlucha of the Rebbe who passed away at such a young age.
Over the last year her family and friends came together to write a Torah, and spread the words of her messages drawn from Torah, at www.unidy.org/rivkystorah. If you would like to still participate you can do so there.
This Sunday, Rosh Chodesh Tammuz, the Deren and Berman families invite the entire community to join them in the completion of the Torah which was written in her memory.
The celebration begins on Sunday 25 June at 4 pm at the Deren home, 121 Little Hill Drive, Stamford, CT which will be followed by a Torah Parade to Chabad of Stamford at 770 High Ridge Road, where the Hakafot and Seudas Mitzvah will take place.
As we approach the Yom HaHilula of Gimmel Tammuz we hope and pray that we merit to celebrate this day with the ultimate celebration reunited with Rebbe, and his Shluchim, leading us to the Geulah Shleima.