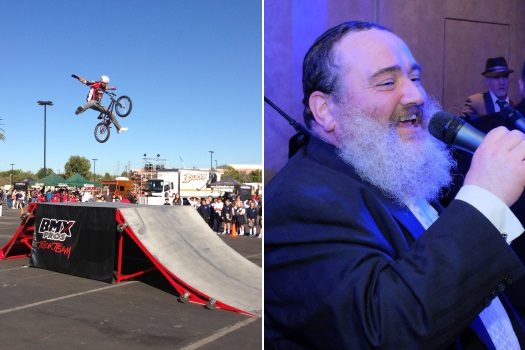 The Great Lag Ba'omer Parade has ramped up its street entertainment for this year, with a first-ever BMX stunt show to hit the Eastern Parkway parade.
It's not only the show that is a first—the presentation has been revamped as well. Three simultaneous shows will take place at intervals across the parade route, allowing all participants to gain front row access to the exciting performance.
"In other years, we've had screens to help people see," explains Rabbi Shimon Hecht, Parade organizer. "This year we want to give everyone a front row seat".
That's not to say there won't be screens this year as well. Giant 160 sq. ft. screens will adorn the length of Eastern Pkwy, allowing participants to have a close-up view of the floats, marching bands and concert performers.
Another surprise release from the Parade office is the next singing great to join the main stage line-up—renowned Jewish singing legend Shlomo Simcha. He will accompany Benny Friedman, Chaim Fogelman and the Mitzvah Boulevard Muppets on the Parade mainstage, and will perform live in concert at the Parade Fair.
Time is running out to book seats at the Great Parade. For information and to book your tickets, visit www.thegreatparade.com.