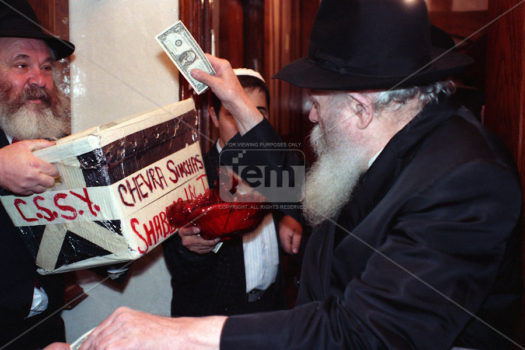 CSSY founder Rabbi Shimshon Stock receives dollars and blessings from the Rebbe.
Purim Marks 10th Yahrzeit of R' Shimshon Stock OBM
This Purim marks Reb Shimshon Stock's 10th yahrzeit, and the family is inviting the community to visit the Stock Porch on Purim and donate to his cherished organization, Chevra Simchas Shabbos V'Yom Tov (CSSY).  "We know Shimshon will be thrilled to see you there," they said.
Shimshon and his wife Martha OB"M served the community for over 31 years with great devotion to the needy and dedicated their lives to bringing joy and assistance to hundreds of families in Crown Heights.
The legendary CSSY charity box will be on display on the Stock Porch. Famously held by R' Shimshon Stock, the late and beloved founder of Chevra Simchas Shabbos V'Yom Tov (CSSY), the box will be stationed on Purim day, Sunday, March 12th , at 593 Montgomery Street. Kids who visit will receive a special treat.
CSSY, initiated by the Lubavitcher Rebbe and headed today by Benzion Stock and Avrohom Moskovits, continues the couple's legacy, discreetly providing funds, food and support 365 days a year.
All Tzedakas go towards Matonos La'evyon to help the needy families in the Crown Heights community celebrate Purim! Additional funds will go towards the Maos Chitim fund which begins 30 days before Pesach.  Please stop by and help bring joy and celebration to the 250 families in Crown Heights who come to CSSY for assistance. You can and will make a difference.
Can't come by in person?  Visit www.cssy.org or mail your donation to CSSY 593 Montgomery St. Brooklyn, NY 11225. All donations are tax deductible.